Have you ever experienced going through a phase of craving just the same food group day in day out? Much more, have you ever had that culinary itch, where you just want to bake a single food item or a certain taste over and over again?
I'm in a baking itch at the moment. I'm in a sweet/salty state of baking mind, and I can't stop.
First, there was the Gateau au Chocolat with Olive Oil and Fleur de Sel cake for Cat's birthday. And now, for Ala's birthday, this…
Bacon Cupcakes!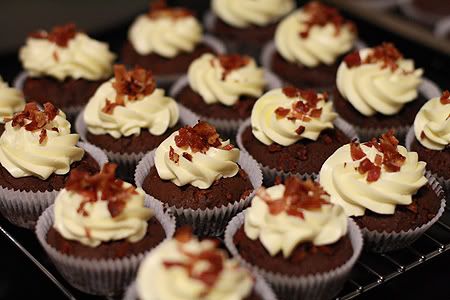 Inspired by Helen of Grab Your Fork's mind blowing Bacon Cupcake recipe and Erica of Happy Bacon's obsession with bacon, I decided to heed all the health warnings in the medical world and got down and dirty with chocolate and bacon. All the people who knew that I was baking chocolate bacon cupcakes only had one thing to say: WHY?
Why?
Because they are sooooo good together, albeit the eccentricity and somewhat disturbing sound to this combination. It's a weird yet wonderful pair up. Dare I say it, it's a match made in food heaven.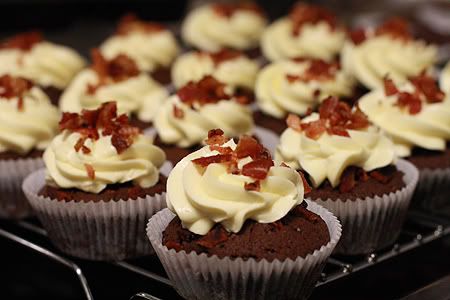 Chocolate Bacon Cupcakes
Recipe adapted from Helen of Grab Your Fork's Chocolate Bacon Cupcakes
Makes approximately 12-16 cupcakes
200g whole bacon rashers
125g unsalted butter, softened
1/2 cup sugar
1 cup plain flour
4 Tbsp (1/4 cup) cocoa powder
1 tsp baking powder
2 eggs
50 ml buttermilk
1. Preheat oven to 170 deg C. Line baking tray with paper cases.
2. Pan fry bacon until crisp. Place on plate lined with paper towel and pat the oil off the bacon. When cooled, the bacon will crisp up even more. Tear or chop into tiny pieces.
3. In the meantime, beat the butter until pale. Add the sugar and eggs. Add the flour, baking powder and cocoa powder. Combine well.
4. Add the buttermilk to the batter and mix together.
5. Divide batter evenly on to prepared pan. Sprinkle some of the bacon morsels on top of the divided batter, pressing some of the pieces deep inside the batter.
6. Bake cupcakes for 20 minutes. Set aside to cool. Frost and sprinkle with more bacon pieces.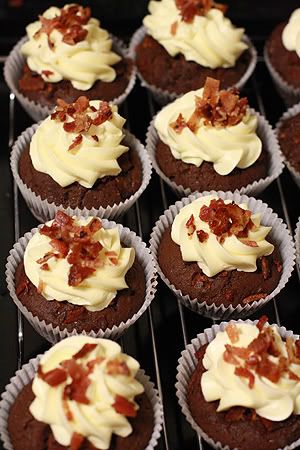 Golden Syrup Buttercream

250g unsalted butter, softened
2 1/2 cups icing sugar mixture, sifted
2-3 squirts of golden syrup
1. Beat the butter until soft and pale.
2. Add icing sugar 1/2 cup at a time.
3. Add golden syrup and beat well. Frost cooled cupcakes.