I must admit: when I was growing up, I hated suman. I was a very, very strange kid.
I didn't like suman because it ticked all the right boxes of a sweet Filipino dessert, such as:
Sticky
Wrapped in banana leaves
Has coconut cream
But lacks one ingredient.
Sugar.
GASP! A dessert, with all the characteristics of the famed Filipino sticky rice dessert family, with no sugar? Abomination! Blasphemy! Injustice!
So I didn't like it. It didn't seem right. It confused my palate. The smell, texture and sight all screamed "DESSERT!", it was indeed in the same family as Biko, Bibingka, Sapin Sapin, and even has similar characteristics as Casava Cake, but the taste wasn't sweet enough for my kiddie palate.
So, for this month's Kulinarya theme, I vowed to myself that I will make this suman the sweetest ever suman that my teeth can take. I will go back to my 7 year old self, offer this suman, and tell her to wait 18 more years and then she'll be able to make, nay eat, the suman that she's always wanted.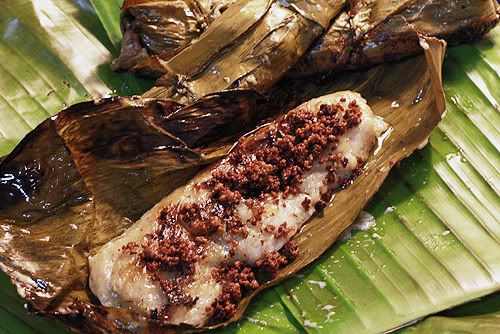 Just a side note as well: this month's theme, hosted by Sheryl of www.crispywaffle.com and Divina of www.sense-serendipity.com was one of the most fun themes I've had in a long time. I must say never in a million years did I imagine I would be making my own suman. To me, suman must be left for the experts. It's something that the mums, and aunts, and lolas make and us kiddies would just tuck in once it's all prepared and cooked.
The preparation itself is just absolutely magical. The smells, sights and even sounds of the ingredients instantly brought me back to spending lazy afternoons in the province as my Lola Nena prepares the meryenda (afternoon snack) for her grandchildren. If only I could bottle up the smells of smoked banana leaves and coconut milk and give it to you dear readers, to show you a little insight of the beauty that is the Philippines.
This suman is the core of Philippine cooking and eating. This goes down to the traditions of the Filipino culture: simplicity with an aura of local pride and using local ingredients. The use of coconut milk in almost all of the cooking process, and utilising banana leaves both as wrapper and string pay respect to Mother Nature – a kind reminder that sometimes, all we have to do is go back to basics. And the results?
Still pretty amazing suman.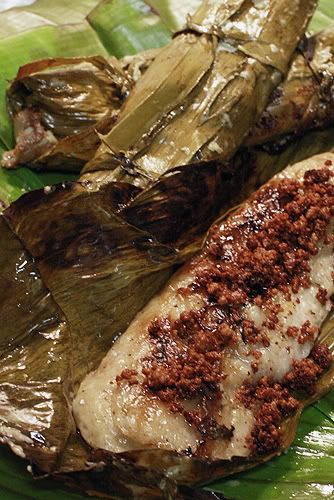 Suman na may Latik (Suman with Latik)
Suman
2 cups glutinous rice
3 cans (400ml each) coconut milk
1 cup water
1/2 cup raw sugar
Banana leaves
Latik
1 can (400ml) coconut milk
1. In a big pot, combine the rice, 2 cans of coconut milk, water and sugar under medium heat. Stir to mix ingredients together and bring to boil. Stir constantly to ensure the rice does not stick to the bottom of the pan and burn.
2. Meanwhile, in a pan, heat 1 can of coconut milk. Stir occasionally for about 20 minutes until the coconut milk has reduced from milk, to oil with milk curds, to browned milk curd (latik) and the oil has separated. Discard the oil and set aside the latik.
3. Once the liquid has reduced and rice cooked, remove from heat and set aside to cool.
4. For the leaves to become pliable and easier to use as wrappers, place banana leaves over an open fire and pass through the flame. The leaves are ready to be removed from the fire once they change colour and become shinier. Don't leave for too long as it will burn the leaves.
5. Wrap the suman in the banana leaves as shown below:
Place a few spoonfulls of suman in the middle of the banana leaf.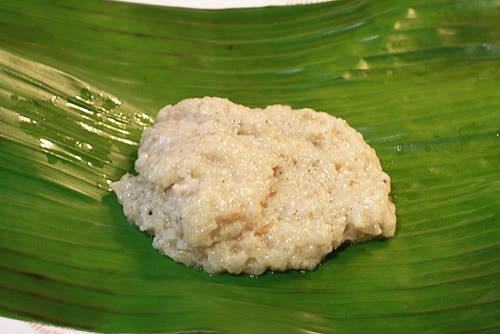 Fold 1/3 of the leaf over the suman.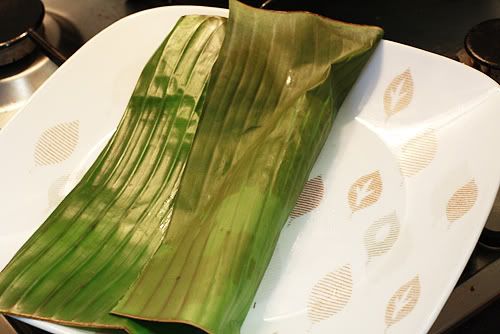 Fold both sides.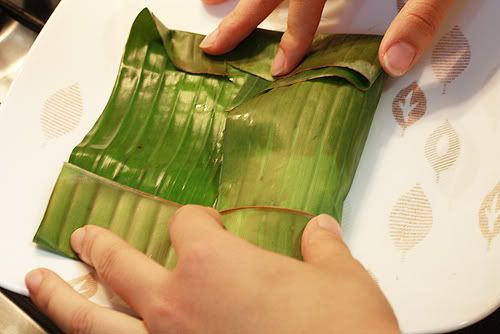 Continue wrapping the suman by "rolling" the remaining leaf, ensuring the sides are tucked in properly.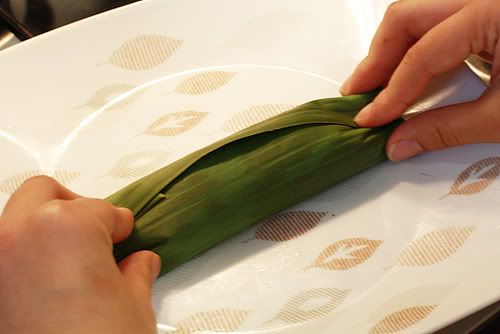 To secure, cut two small strips of banana leaf and tie on each end of the suman.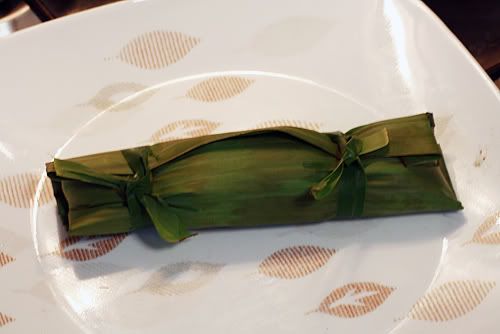 6. Place all wrapped suman in a big pot, add 1 can coconut milk and enough water to top up the pot. Cook under medium heat until all the liquid has almost dried.
7. Serve warm with the latik.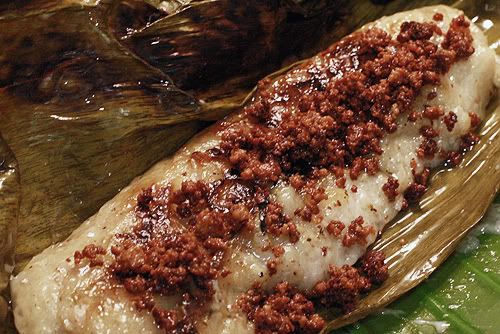 …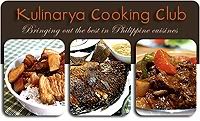 Kulinarya Cooking Club was started by a group of Filipino foodies living in Sydney, who are passionate about the Filipino culture and its colourful cuisine.
Each month we will showcase a new dish along with their family recipes. By sharing these recipes, we hope you find the same passion and love for Filipino Food as we do.
If you're interested in joining our Kulinarya Cooking Club, please feel free to drop by our foodblogs and leave a comment – we would love to hear from you!
Say hello to the other members of the Kulinarya Cooking Club!
Kath – http://www.acupcakeortwo.com/
Trisha – http://sugarlace.com/
Trissa – http://trissalicious.com/
Olive – http://www.latestrecipes.net/
Caroline – http://whenadobometfeijoada.blogspot.com/
Ninette – http://bigboldbeautifulfood.blogspot.com/
Peach- http://www.thepeachkitchen.com/
Althea- http://www.busogsarap.com/
Asha – http://forkspoonnknife.blogspot.com/
Malou – http://www.impromptudiva.com/
Cherrie – http://sweetcherriepie.blogspot.com/
Acdee – http://acdee.blogspot.com/
Valerie – http://www.acanadianfoodie.com/
Sheryl – http://crispywaffle.com/
Divina – http://www.sense-serendipity.com/
Anna – http://www.anniesfoodjournal.blogspot.com/
Dahlia – http://www.energychef.blogspot.com/
Joy – http://joyjoycreativeoutlet.blogspot.com/
Maribel – http://www.foodgeek.webs.com/
Tressa
Jen – http://www.jen-at-work.blogspot.com/
Pia – http://bisayajudkaayo.blogspot.com/
Malaka – http://thegrandinternational.com.
Mimi – http://lapinchecocinera.blogspot.com
Erika – http://ivoryhut.com/
Kat – http://twitter.com/alanokat
Lala – http://thislittlepiggywenttothemarket.blogspot.com/
Selfie – http://eats.sefiebee.com/
Connie Veneracion frm http://homecookingrocks.com/
Oggi from http://oggi-icandothat.blogspot.com/
Katrina Kostik from http://lardonmyfrench.blogspot.com/
Rochelle Ryan from http://www.whydiss.blogspot.com/
And of course… Kath of A Cupcake or Two and Trissa of Trissalicious!