Ever since I was a little kid, I have always had this fascination with cooking shows. I remember one Sunday morning when I was about 6 years old, my sister and I had an argument about what to watch on TV – she wanted Bio-man while I wanted to watch the local cooking show, Cooking with the Daza's. I won in the end because I was younger than her, but now in hindsight I think it was a very odd thing for a 6 year old to choose a cooking show over a very popular kid's show.
That must've spawned my love of the kitchen. Mum was the sole cook in the family, and whatever recipes I have here, unless otherwise stated to come from somewhere else, where all my dear mother's own. I learned from her, and in turn would like to give the honour and credit back to her for teaching and inspiring me not just to cook, but to respect the origins of the food, enjoy the journey of cooking, and love the food itself.
Mum, you are, without a doubt, the goddess of the kitchen.
…
I have started a very small collection of cook and recipe books that I have acquired over the past years. It's not much, but it's a start. 🙂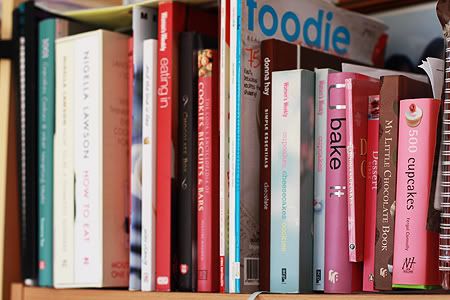 I'd like to add a few more and in due time, I know it'll get bigger. I can't wait to dive in and get my hands all floured up and ready for more cooking!