Welcome to the wonderful world of Kulinarya Cooking Club's May theme, Pancit.
Pan-what?
Pancit. Noodles. You know, that Chinese ingredient that represents long life and is perfect in soups, stir fried, or somethings even as filling in spring rolls Vietnamese style!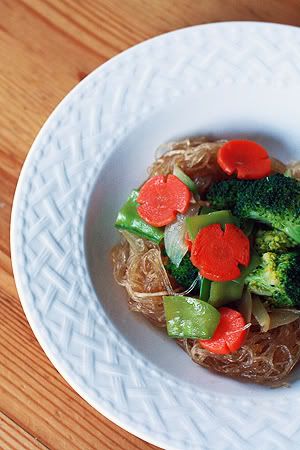 But we're not talking about China or Vietnam, we're here for good old Las Islas Filipinas!
Pancit was first introduced to the Filipino by way of the Chinese merchants who immigrated to the Philippines to trade business with the country. The Chinese brought with them different cultural influences that over time were adopted by the Filipinos – may it be in cuisine, language, practices or beliefs.
I myself am a product of this multi-racial, bi-lingual heritage: my grandfather was a refugee from China who was exiled to the Philippines. There he met my grandmother, a full blooded Chinese but was born in the Philippines. They met, got married and had plenty of kids (ok, 6 of them including my mum). Eventually my mum met my dad, a full blooded Filipino, and had us who then eventually (trust me I'm almost in the ending) went to a Chinese school in the Philippines but for the life of me still can't speak Chinese fully.
What I can do, however, is cook. And cook I did, for this month's Kulinarya Cooking Club theme.
There are so many different varieties of pancit, depending on which region in the Philippines you come from or which recipe you've learned, however in the end there's always going to be one staple ingredient: noodles. Whether you mix it with vegetables, seafood, pork, chicken or beef, Pancit always goes back to noodles, noodles, noodles. Oh, and one more Chinese tradition that we keep when eating Pancit? There's always Pancit on someone's birthday for longevity.
This recipe is similar to the Chopsuey recipe covered in the past, only with more broth as the noodles soak up alot of liquid. This Pancit recipe uses bihon, a rice noodle similar to vermicelli but somewhat thicker in size.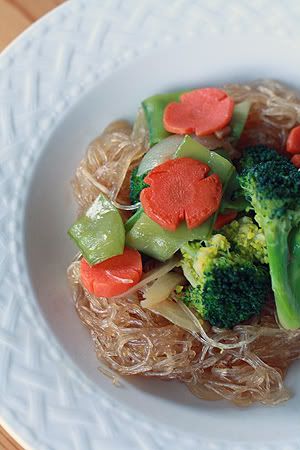 Pancit Bihon
Serves approximately 2 people
1 tbsp olive oil
3 cloves garlic, minced
1 onion, chopped
1 carrot, sliced
1 medium cluster broccoli
50g snow peas
1 cup chicken or vegetable broth
1 tbsp fish sauce
A few sploshes of sesame oil
Salt & pepper
100g bihon noodles
Calamansi or lemon or lime (for serving)
Saute garlic and onions in olive oil. Add the fish sauce, broth and salt & pepper.
Add the "hard" vegetables – eg carrots. Put on lid and cook until vegetables are partly cooked.
Add the "green" vegetables – eg broccoli, snow peas. Put on lid and cook for about 3 minutes.
Add a few sploshes of sesame oil for aromatics. Put on lid and let the steam cook the vegetables for a minute or two.
Remove cooked vegetables until only the "sauce" or broth is left in the pan. Add the noodles and cook until softened. Add the vegetables again and stir to combine.
Serve with a slice of calamansi or lemon wedge.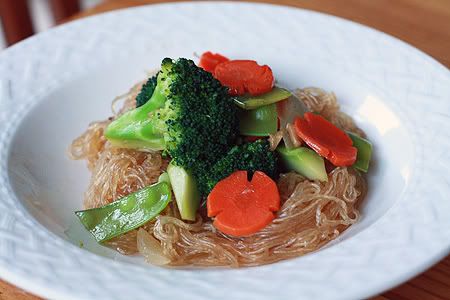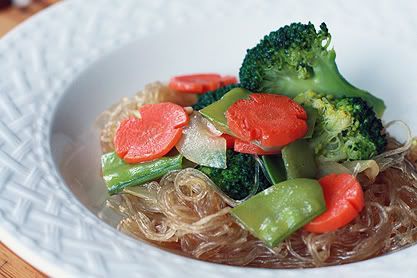 …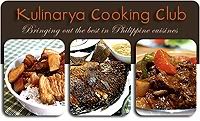 Kulinarya Cooking Club was started by a group of Filipino foodies living in Sydney, who are passionate about the Filipino culture and its colourful cuisine.
Each month we will showcase a new dish along with their family recipes. By sharing these recipes, we hope you find the same passion and love for Filipino Food as we do.
If you're interested in joining our Kulinarya Cooking Club, please feel free to drop by our foodblogs and leave a comment – we would love to hear from you!
Say hello to the other members of the Kulinarya Cooking Club!
Olive – http://www.latestrecipes.net/
Caroline – http://whenadobometfeijoada.blogspot.com/
Ninette – http://bigboldbeautifulfood.blogspot.com/
Peach- http://www.thepeachkitchen.com/
Althea- http://www.busogsarap.com/
Asha – http://forkspoonnknife.blogspot.com/
Malou – http://www.impromptudiva.com/
Cherrie – http://sweetcherriepie.blogspot.com/
Acdee – http://acdee.blogspot.com/
Valerie – http://www.acanadianfoodie.com/
Sheryl – http://crispywaffle.com/
Divina – http://www.sense-serendipity.com/
Anna – http://www.anniesfoodjournal.blogspot.com/
Dahlia – http://www.energychef.blogspot.com/
Joy – http://joyjoycreativeoutlet.blogspot.com/
Maribel – http://www.foodgeek.webs.com/
Tressa
Jen – http://www.jen-at-work.blogspot.com/
Pia – http://bisayajudkaayo.blogspot.com/
And of course… Kath of A Cupcake or Two and Trissa of Trissalicious!