This flu season has got to be the worst one ever – I have been sick three times already and counting… and we've only managed to scrape through the first month of winter! I can't be sick in the next two months because of so many planned activities, and it will just kill me if I don't get to attend all of them (yes, all of them).
To combat the flu, the sore throat, the runny nose, the fever, and the poor immune system, I decided to stay home Friday last week and hide away from the cold, harsh winter weather. The sister was home sick too (I got it from her dammit!) so I thought I'd make us feel better by making a warm, light, healthy soup for lunch.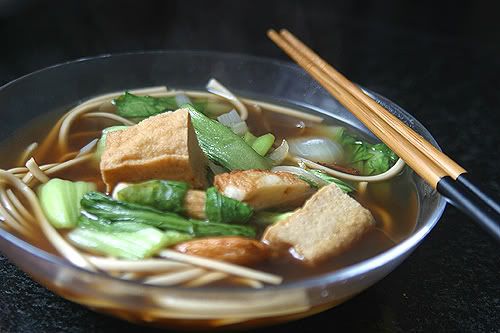 This is my take on Nigella Lawson's "Soup for the Needy People". The basic ingredients are the same, but with my own little tweaks with whatever ingredients I could find in my pantry. And being sick and housebound for days, it was a very dwindling number of pantry ingredients.
Mixed Seafood Soba Noodles
Recipe adapted from Nigella Lawson's Soup for the Needy People
Makes approximately 2 servings
500ml beef stock
200g dried soba noodles
1 tbsp soy sauce
1 tsp mirin
1 bunch baby bok choy
1 stem scallions, chopped
1 small onion, chopped
Tofu, bean sprouts, carrots, mushrooms, and other vegetables
A selection of mixed seafood
1. Boil the stock in a saucepan. Add soy sauce and mirin.
2. Add seafood, onions, tofu, and vegetables (eg carrots, mushrooms,  etc).
3. Add soba noodles. Cook for a minute.
4. Add remaining ingredients – bean sprouts, bok choy, scallion and other greens. Cook for a few seconds and turn off heat. Put on lid and let the steam "cook" the vegetables. Enjoy!