After reading GrabYourFork Helen's post on the different Filipino food and ingredients during the food tours at Bankstown Food Festival, I got to thinking about my own home versions of some of the meals she has showcased. Champorado, dilis, agar agar, kutsinta, etc. I know that Filipino food isn't as mainstream as some of the more popular Southeast Asian counterparts, but I think it deserves a spot in the hall of fame.
The whole concept of pikadilyo is simply minced meat with some sauce, root vegetables, and that distinctive orange colour from the less expensive version of saffron, achuete. It is a common karinderya (street food stalls) dish served with rice anytime of the day.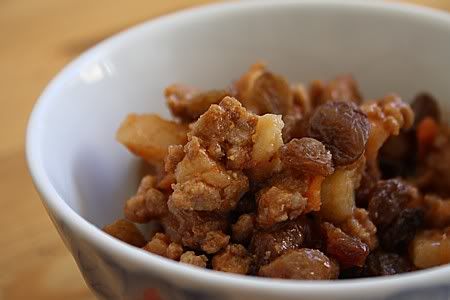 Oh, it even has a Wiki page! Check it out – http://tl.wikipedia.org/wiki/Pikadilyo (not much info, but still)
Helen was right when she said that Filipino food is an amalgamation of different cultural influences from all over the world: Malaysian, Chinese, Spanish, Portuguese and American to name a few. Furthermore, you will see that alot of the dishes have Spanish or Chinese names, and this was because of the 300 years of colonisation of the former and the influx of migrants of the latter. Pikadilyo was derived from the Latin Americas and has somehow found its way to the Philippines, and I'm assuming this was thanks to our European travellers led by Ferdinand Magellan.
My version of pikadilyo has a few missing characters. Firstly, I don't use achuete, only mainly because I wasn't able to buy any from the Filipino shops. Secondly, no capsicums on this particular pikadilyo as well, only because I didn't have any at home. Pardon me. However, I'd normally put green and red capsicums for that extra added crunch and a much more authentic Spanish taste.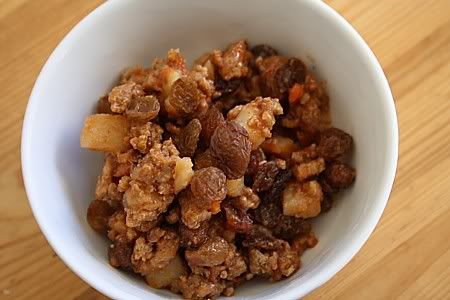 Pikadilyo
Olive oil
3 cloves garlic, minced
1 medium size onion, chopped finely
1 large tomato, chopped roughly
500g minced pork or beef
2 tbsp soy sauce
1 tbsp fish sauce
2 medium size carrots, diced
2 medium size potatoes, diced
1/2 medium size capsicum (green or red), diced
1/2 cup sultanas
2 tbsp tomato sauce
Salt and pepper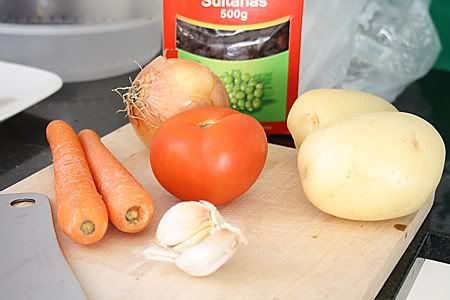 Saute garlic in olive oil until brown (but not burnt). Add onions. Add tomatoes until softened.
Add minced pork and saute until everything is well mixed. Add soy sauce, fish sauce, salt and pepper. If the pan is dry, add about 1/3 cup water to prevent the pork from geting burnt. Put on lid and let simmer for 20 minutes or until pork is cooked. Stir occasionaly or add more water if the pan dries up.
Once pork has been cooked, add carrots and potatoes. Add more water if necessary, otherwise put on lid and let the vegetables cook for a further 5 to 10 minutes.
Once vegetables are cooked, add tomato sauce, capsicum, and sultanas. Stir to combine. Put on lid and turn off heat. The steam and the heat remaining inside the pan will cook the capsicums and the sultanas so they remain crunchy.
Serve with rice. Enjoy!