Sausages. Beer. Footy night. The boy.
Those are the things that I presume sound music to a boy's ears. I think it's just plain healthy giving him that one boy's night a week. Healthy for his and my sake, at least.
PS. He gets two a week. A footy night and a basketball SUNDAY (uh huh… the whole day!).
Ah but I digress.
Let's go back to good old sausages. I think this is the third time I've featured sausage meals in the past month! What can I say – the people in my household and I are huge fans of the wiener (hehehe) and it's such an easy and tasty dish to cook when you're in starving situations.
The other reason why I love cooking sausages is because of my favourite butcher – Craig Cook's Prime Quality Meats in Rhodes Shopping Centre. They have the best gourmet sausages, pork and beef cuts, and poultry. They also have the friendliest experienced butchers around and I just love the service they give. Naming the butcher shop Prime Quality Meats indeed does them justice – the quality of their merchandise is just superb!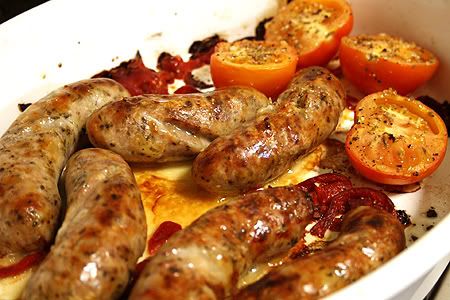 These sausages were SUPERB! I'm telling yah – I was more than surprised at how moist, tasty, meaty, and just absolutely fantastic they are! I trusted my butcher when he suggested these babies… and he hasn't put a wrong foot forward yet! Hallelujah for butchers – they are just wonderful human beings, no?
Oven Baked Sausages with a side salad of baby spinach, haloumi & wood fired capsicums
Makes approximately 3 servings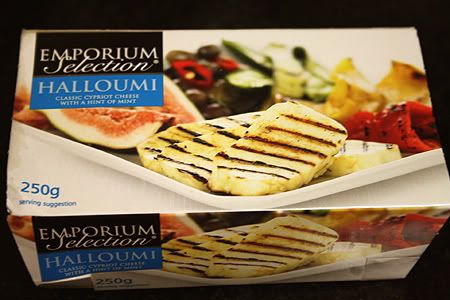 6 Pork, Sage, Provolone Cheese & Porcini Mushrooms Sausages (2 per person)
Garlic oil, if desired
1 whole onion, sliced
6 Truss tomatoes (2 per person)
500g bag of baby spinach leaves
250g haloumi cheese, sliced
Wood fired capsicum (from the jar)
1. Preheat the oven to 230 deg C.
2. In a baking dish, place the sausages and sliced onions. Drizzle with garlic oil. Bake for approximately 20 minutes, then turn sausages to the other side, add the onions and tomatoes, and bake for a further 10 minutes.
3. Meanwhile, grill the haloumi cheese in a pan. Do not put any oil. NB. I think I must've done something wrong because my haloumi cheese sort of "melted"… I think I should've used a grilling pan instead of a normal frying pan. My fault!
4. Toss the baby spinach leaves, capsicums, and haloumi cheese.
5. Serve sausages with salad, grab a cold bottle of beer, kick back, and enjoy the footy!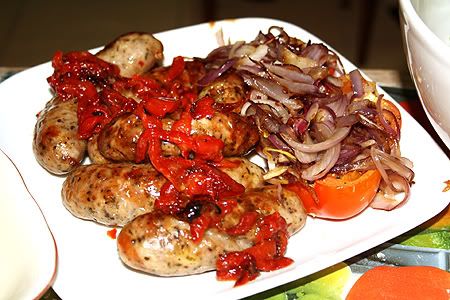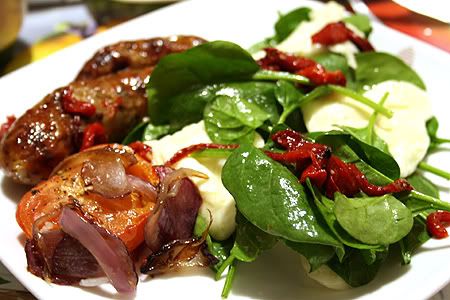 Isn't that a wonderful splash of colour to celebrate Spring? It's a lovely celebration of colours to welcome the coming out of Winter into Spring!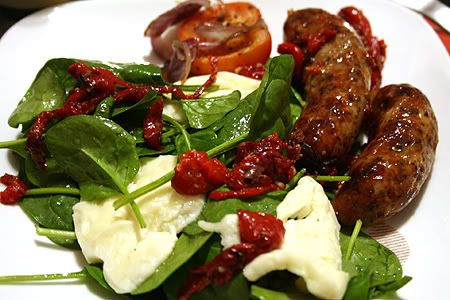 …
Lower Ground Floor, Rhodes Waterside Shopping Centre, Rhodes NSW