Oh what an amazing day: a couple of cooking classes with Mr J, infinite glasses of wine, cheese, cheese and more cheese and endless hours of walking around the Good Food and Wine Show all makes for a really productive day!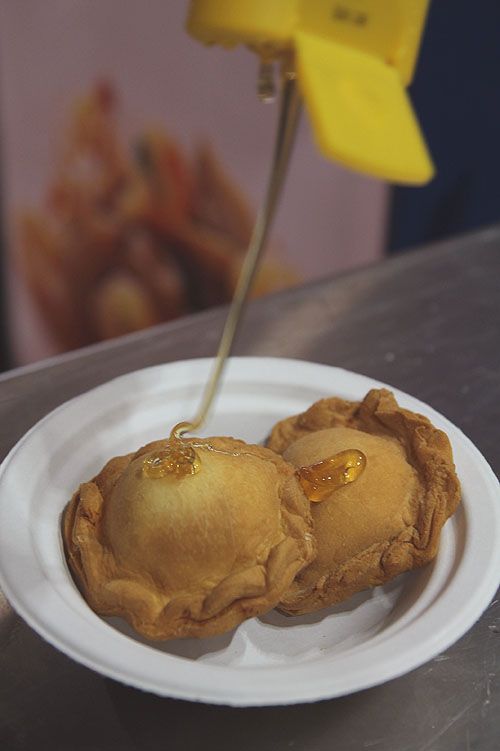 I was indeed ecstatic when I was invited by Barilla to attend their cooking classes at the show, in particular the special pre-show class to make Seadas and taught by MKR's Sammy & Bella. Now I wasn't an avid watcher of MKR or any of the reality shows, but I have to admit that they were friendly and gave a pretty good class.
Seadas are traditional Sardinian pastries filled with cheese, deep fried and drizzled with honey. Our version today was a citrus mix of ricotta cheese, grated pecorino with orange and lemon zest. I must say I'm not familiar with this dish, but was pleasantly surprised at how light, tasty and perfect these little bundles of cheesy pastries are for breakfast. It was the perfect way to start our absolutely busy and hectic day, especially when paired with a cup of coffee thanks to De'Longhi further down the hall at the show.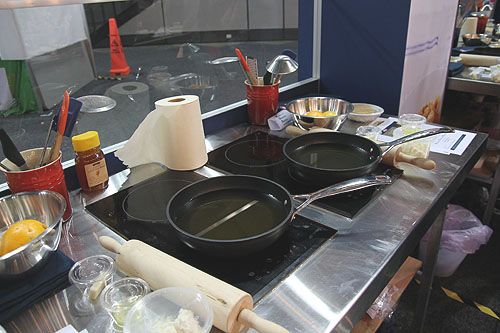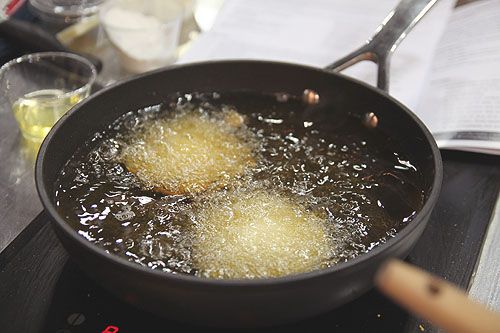 You can still go to the Sydney Good Food and Wine Show tomorrow – tickets are still being sold for Sunday 29/6/14 at  http://goodfoodshow.com.au/sydney/
Patricia & Mr J attended the cooking class and the Good Food and Wine Show as guests of Barilla. Thank you for the generous invitation and hospitality. 
Sammy and Bella's Seadas, for the Barilla Bloggers Breakfast
Recipe from Sammy & Bella's Website
Serves 6 (makes 12)
For the dough:
3 cups "00" flour
1/3 cup semolina
2 free range eggs, plus 1 yolk (set 3rd egg white aside for below)
80 to 100 ml water
80g salted butter, softened (or lard)
To fill, cook and finish:
extra flour, for dusting
1 egg white, from above
350g ricotta
50g pecorino sardo, grated
zest from 1 lemon
zest from 1 orange
olive oil, to fry
¾ cup (250g) honey
In a stand mixer bowl fitted with a dough hook, place plain flour, semolina, whole eggs plus egg yolk, 80ml water and softened butter. Mix until well combined, and add a touch more water if it's too dry. Allow the machine to knead for 5 minutes or until the dough is smooth and elastic. Wrap in cling film and let rest for at least 30 minutes.
On a floured work surface, roll out the dough to 2 or 3 mm thick. Using a 4 inch fluted pastry cutter (or a glass), cut out 24 disks. Using a pastry brush or your finger, brush 12 of the disks with egg white.
Grate the pecorino and mix withricotta, lemon and orange zests. Distribute this mix evenly across 12 disks, cover with another disk and press down firmly on edges to seal.
Heat 1 inch of olive oil in a frying pan until hot (or in a deep fryer to 180C). Fry the pastries, in batches, until lightly golden. Drain excess oil on paper towel.
Serve immediately, hot and drizzled with honey.
NOTE: The dough was already pre-made before the cooking class, so all we had to do was roll, slice, fill, deep fry & eat.