We're blessed with beautiful friends who are expecting some equally beautiful babies. I'm surrounded by amazing mothers and mums-to-be, while already being an "Auntie" to a few little kiddies. So this particular afternoon tea baby shower, I pulled out the cupcakes and the flowers and the organic softdrinks to cater for a few of our girlfriends and their little ones.
I was also ecstatic to have been given some Bionade bottled drinks, which went down really well for the ladies who are pregnant and breastfeeding. Since the drinks are non-alcoholic, organic, and really, really delicious, they were the perfect drinks to serve for our chosen "audience".
Plus, I was running the Nike She Runs 10 km run that night, so alcohol was a definite no-no for me.
My favourite hands down are the Ginger Orange and the Lychee (ok, I'm a fan of lychee martinis, so this was a great alternative).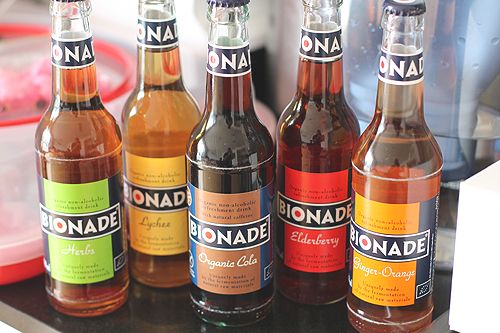 BIONADE is:

• 100% certified organic in both raw materials and production
• On average 60% lower in calories and sugar than other soft drinks
• Gluten free, vegan & vegetarian friendly
• Non-alcoholic – the perfect drink for kids and family
• Free from colourants, preservatives, artificial flavours or other nasties typically found in other brands on the market
• Delicious, refreshing and thirst quenching
• Available in 5 delicious flavours: Lychee, Elderberry, Herbs, Orange & Ginger AND the brand new Cola flavour being launched end of March.
Now that I've finished my run, I'm now thinking of maybe mixing the Lychee drink with some vodka and vermouth and make my own cocktail. Yes? Watch this space!
Thanks to Digivizer and Bionade for the amazing samples that I got to share with a bunch of pretty awesome girlfriends.