When we were growing up, my sisters and I had this encyclopaedia called "Childcraft". It was a magical collection of books, complete with pictures and interesting facts, that opened our eyes into the history and the present outside world.
My older sister has always been branded "the walking encyclopaedia". She memorised all the books and all its chapters, and I would happily trot behind her knowing that amongst the other kids in the neighbourhood, my sister was the smartest.
We would get into plenty of trouble when we were kids, and my sister loved experimenting different things that she learned from Childcraft. I remember a volume on recipes for children's food, where there was a recipe, similar to french toast, that she and I love making especially on summer afternoons when the kitchen's quieter.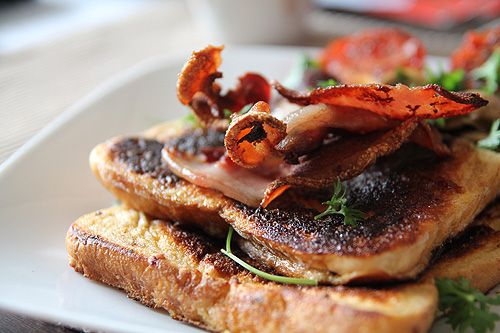 This French toast recipe is a direct version of my sister's recipe. She's a rebel, does not follow rules and likes to do things her way – you cannot put her down into just one category, because she's such a free spirit!  She's also very particular with her food: if she doesn't like the smell of it, she won't eat it. Suffice  to say that this recipe passed her very strict scent-o-meter, and in fact is so easy to make and indeed takes me back to my childhood.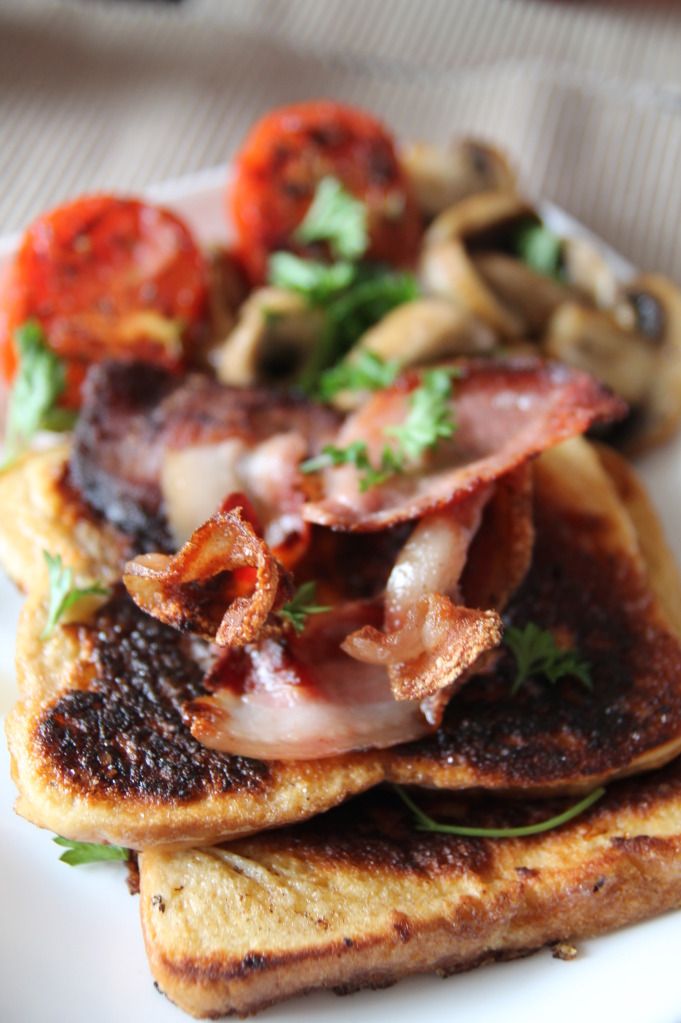 Sister's French Toast with Crispy Bacon
Makes approximately 2 servings
2 slices stale, white bread (sliced thickly)
1 egg, beaten
2 tbsp milk
1/2 tsp white sugar
1/2 tbsp butter
Salt and pepper
4 rashers bacon
Maple syrup
In a shallow dish, beat egg, milk, white sugar, salt and pepper.
Put the two slices of bread on the egg mix, press down firmly to ensure the bread soaks all the egg mixture.
In a small pan, fry the bacon until crispy. Set aside.
In a pan, melt the butter under low to medium heat. Add the bread and pan fry for about 2 minutes on either side.
Serve on a plate, top with the crispy bacon and drizzle some maple syrup. Serve and enjoy!
…
So many things can happen in such a short length of time. One minute you're celebrating twenty seven years of being alive, the next you're being told that you will need an operation and perhaps consider those three letters that you never thought you should start thinking about until your well past your reproductive years: IVF.
It may not be a life threatening event, but it is indeed life changing.
So I may have had a small operation very recently, and I may have come out of it a different person, but one thing is for sure… it really made me think about my mortality, the people around me, and what I would be leaving behind in case something out of the ordinary happens to me while I'm on the table. In fact, it made me think so hard that I had to prepare my own will.
I find it interesting, in fact fascinating, to trust my life to the same profession that I have made a career out of: health & medicine. How wonderful it is to live in this day and age when science has met medicine and together they have formulated ways of healing people painlessly and giving them the best possible health outcomes with the least possible disturbance.
One minute I was sitting up on the hospital bed, happily chatting away to my husband, even joking that the Midazolam the anaesthetist was giving me through my IV cannula was the "happy medicine", and the next I was slowly waking up from the deepest sleep ever, unable to recall whether I was asleep for 30 seconds or 2 1/2 hours. I had to check my stomach just to confirm if I did go through the operation, and lo and behold: still had a complete body, but now with 4 incision sites and one catheter.
Being a patient, going through surgery, coming out alive and well and looked after – all made me a happier, more positive, more grateful and definitely a changed person.
This post is dedicated to my beloved family – my parents, sisters, and husband – who did not leave my side and never faltered. I know that I am thought of, cared for, & loved.