July is my birthday month. Unfortunately, July is also the middle of winter, which means flu season, which means Mr J and I are usually out of commission for a few days.
This year's flu season has been particularly bad, affecting both of us and confining us in bed, lethargic and absolutely unable to move at all. Unfortunately, we both got the flu during my birthday too. I prefer small and simple birthday celebrations (except for my birthday last year, when I had too much tequila and mojitos as it was "the last single gal's birthday"… oops!), where we usually opt for a weekend trip away, a simple dinner or a movie. This year, we had the privilege of dining in Tokonoma for my birthday, thanks to Julian from Text100 and Spreets. According to the details about this Spreets deal, it was a 51% discount from $200 to $99 for a 12 dish meal for two.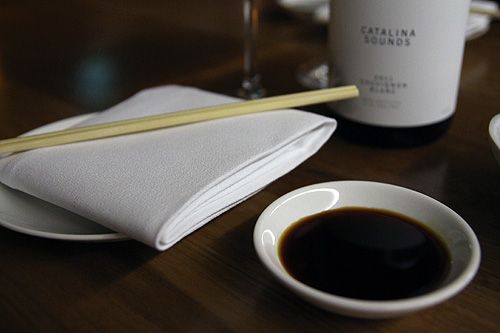 A cab ride after work to Surry Hills later, we found ourselves walking down Crown Street, trying to watch out for that wooden door. Look out for Toko, as Tokonoma will be to its left. Head towards the big, heavy wooden door which opens into a a darkly lit space, emanating dark shades of maroon, black and gun metal grey – very minimalist Japanese.
We were showed to a spacious booth, served our bottle of wine and introduced to our 5 courses, 12 dishes meal.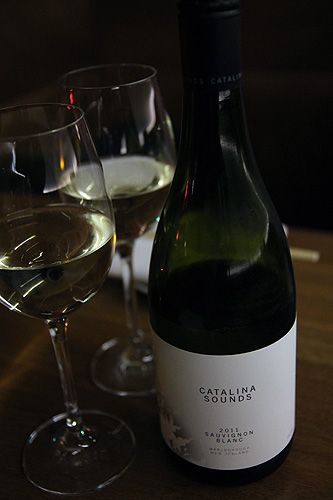 Edamame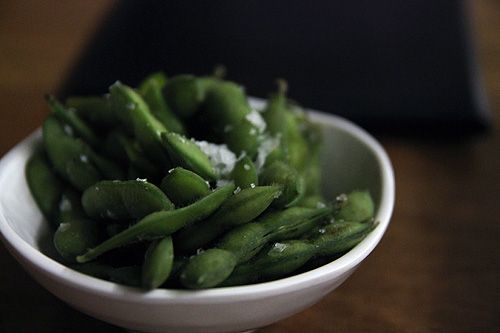 The meal starts off with the usual edamame starter, steamed and deliciously sprinkled with coarse salt.
Salmon tartare
The tartare was served in two chinese soup spoons – tasty, almost smokey bits of salmon morsels.
Beef tataki
I am a novice when it comes to raw japanese foods. I'm not a raw meat fan, but this beef tataki was a plate of well seasoned, tender strips of seared meat.
Soft shell crab with wasabi mayo
Crunchy and salty little bites of soft shell crab, dipped in a delicate and potent wasabi mayo sauce.
Nigiri Platter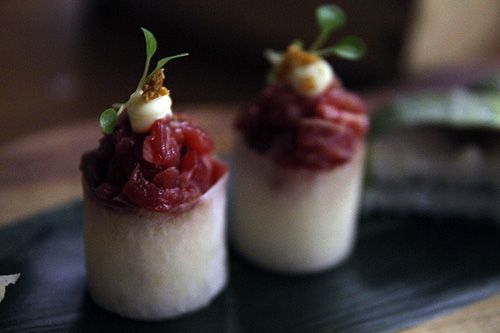 The usual nigiri has just the right amount of rice to fish meat ratio, and who could resist popping in your mouth these tuna tartare on sushi rice bites?
Sashimi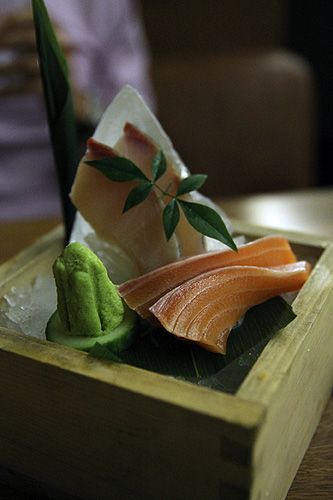 Again, I am not one to pick this first but surprisingly, the sashimi was delicate and silky, and without that strong fishy aftertaste. And look at that uh… box? Plate? Box plate? Amazing!
Seared scallop
My sister first introduced me to this luscious, delicate dish, and I was delighted to find this on the menu. They were just precious little things, seared to perfection but still pleasantly sweet and tender. Unfortunately I'm not a fan of roe, so Mr J had two servings… much to his happiness.
Calamari tempura with chilli sauce
This was the star of the show. The calamari tempura was well fried with a crunchy coating, sweet tender meat and paired incredibly well with the smoky, almost-hickory chili sauce.
Scotch fillet
Who can resist a good slab of quality meat? Well grilled, perfectly season and oh so tender it's almost melt in your mouth.
Grilled zucchini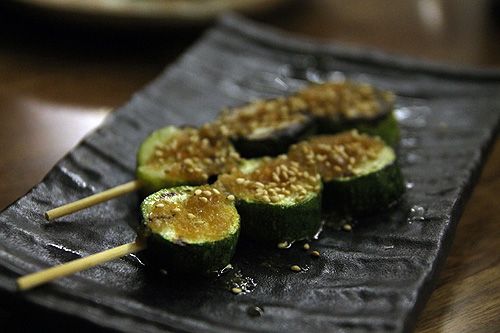 These grilled zucchini skewers with wafu sauce and sesame was a real treat… who said vegetables can't be fun? We couldn't get enough of the dressing, I had to eat the zucchini slowly so I get to "mop" up the sauce too!
Miso soup
Ain't no Japanese meal without miso soup to complete the whole meal.
Grapefruit and pineapple sorbet
Expecting to taste sourness, we were surprised to find the sorbet had the right amount of tart and sweetness. And oh so smooth texture.
Creme brûlée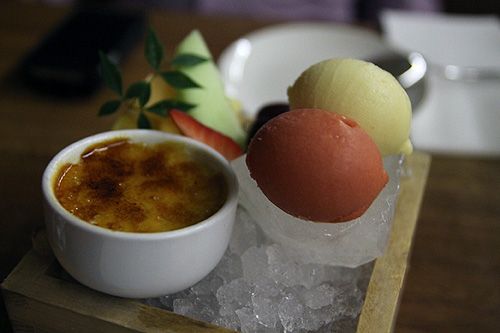 Eating Creme brûlée deserves its own ceremony: pick up a spoon, position infront of you, & crack the topping. Dip the spoon, take a spoonful of the luscious custard, look out for those precious specks of vanilla and close your eyes and succumbed. Repeat.
And because we wanted a proper birthday night cap, and wanted to celebrate in our small way, we ordered a couple of cocktails and they were fabulous! Even Mr J squeed with delight upon seeing his little martini glass – joy!
Mystery drink!!!

Now, this was a drink recommended by our waitstaff, but for the life of me I could not remember what it was called! The cocktail was similar tasting to a margarita, just a bit sweeter and has a slight bitterness. I wonder what it was?
Lychee & Jasmine Mojito
"Havana club especial stirred with lychees, fresh mint and lime, served long with chilled jasmine tea and club soda" – a generous glass of sweet and sour mojito, with that refreshing finish thanks to the jasmine tea
It was certainly a happy birthday to me, a happy dining to Mr J and a happy evening for both of us! Thank you again Julian and Tokonoma for the gracious meal! It was spectacular!
Trish & Mr J dined as guests of Tokonoma. Thanks to Julian of Text100 and Tokonoma for the kind hospitality.
…
Tokonoma
490 Crown Street Surry Hills NSW 2010 Australia
Telephone +61 2 9357 6100