Often on weekends, Mr J and I find ourselves longing for a quiet one, staying in and doing house chores and lazily watching the telly. Sure, it's not really enjoyable doing house chores (including cleaning the dreaded bathrooms), but they have to be done! And there's nothing like staring at a bright, sparkling, newly-cleaned bathroom, smelling freshly washed laundry and sitting on a newly vacuumed carpet.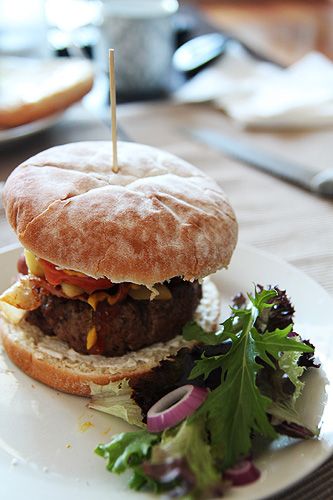 To reward our efforts, Mr J always offers to cook our Sunday lunches or dinners. I'm not one to complain, in fact I look forward to his cooking as he's a very adventurous cook (whereas I'm not) and he likes experimenting with different ingredients.
This burger is not too experimental or adventurous though… but it's a great burger from a great chef (Jamie Oliver) and towers above the burger bun that henceforth holds it! It was such a magnificent being, layer after layer of sauces, salad and the patty. And yes, that is a Duff beer that you can see right there… because we like to channel our inner Simpons once in a while.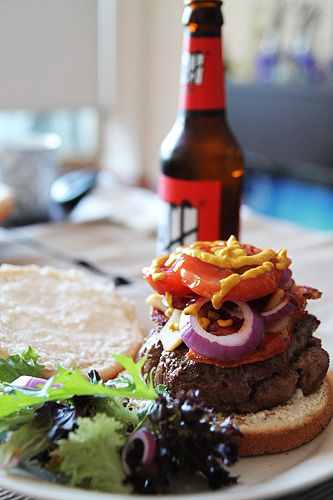 Jamie Oliver's Botham Burger
Recipe from Group Recipes

Makes approximately 4 servings
500g good, lean quality organic ground beef
1 onion, chopped finely
1 egg
1 slice of crusty bread, pounded (or processed) to crumbs
1/2 tbsp crushed coriander seeds
1/2 tbsp crushed cumin seeds
1 tbsp Dijon mustard
4 burger buns, sliced in half
Olive oil
1. Mix all ingredients in a bowl. Divide the mixture in quarters, and shape each quarter in a ball. Press down gently to make a thick patty.
2. In a preheat grill pan, drizzle a small amount of olive oil. Place the patties and gently press the spatula down, careful not to break the patties apart. Grill patties for roughly 7 minutes on each side (6 minutes according to Jamie Oliver's recipe, but Mr J wanted to be sure…).
3. Place cooked patties on a plate and let them rest for a few minutes before serving.
4. Using a paper towel, mop up most of the remaining oil and other liquids in the grill and discard. Place the burger buns, sliced side down, on the pan and grill for a minute on one side only until toasted. Set aside.
Assembly
Cooked burger patties
Toasted burger buns
Choice salads (lettuce leaves, sliced tomatoes, red onions)
Dressings (American mustard, tomato sauce, mayonaise or barbecue sauce)
Sliced cheese (if desired)
1. Assemble the buns, cheese, burger bun, dressing and salad.
2. If the burger appears to be high and unbalanced, insert a skewer in the middle to hold the layers together.
3. Serve with a cold beer & enjoy!