Weather in Sydney has been quite confusing lately. Out of 1 day of sunshine, we probably get 10 days of rain. So when we were suddenly blessed with a fabulous Saturday last week, Mr J and I thanked our lucky stars for choosing this day to book a lunch date at Helm Bar thanks to George from Wasamedia. Why? It's in Darling Harbour. It's (almost) outdoors. It's near the water. We, Sydneysiders, are water babies and will get every chance we can to go near the water, in the water, next to water.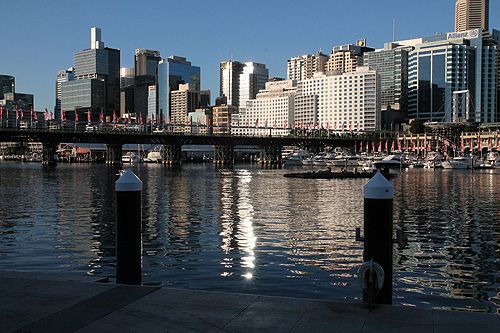 Sydney was sparklingly gorgeous this Saturday afternoon. We've just done an invigorating run around the park, waking up those winter muscles from their cold slumber. The idea of a good pub lunch, some cocktails and cold beer was too enticing, and Helm Bar did not disappoint. Helm isn't just a place for drinks with your girlfriends on a Saturday night, I basically found out that it's also a place for steak and mussels for Mr J and I!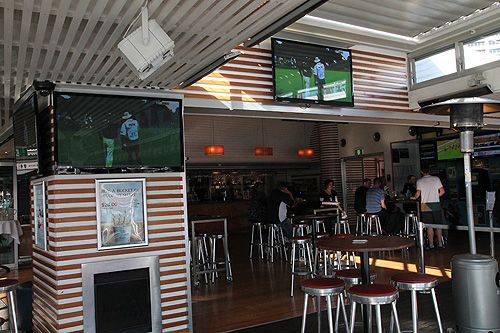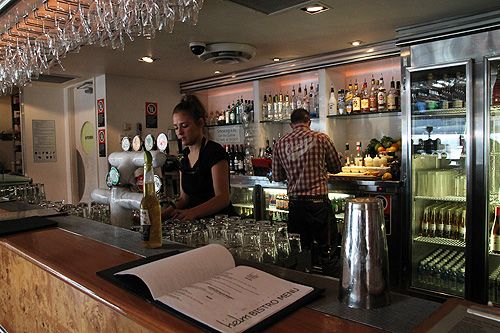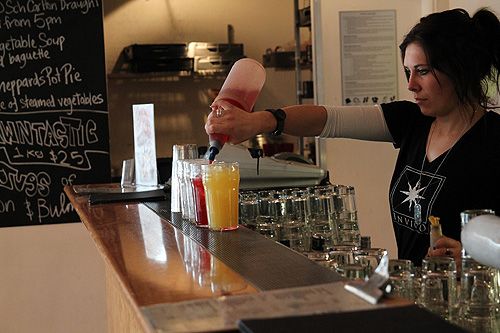 We started off with some drinks while waiting for our meals to arrive. Mr J is a typical beer drinking bloke, so he ordered his usual Corona Extra. As for me, I wanted something different from the new cocktail menu so I opted for the Thai Berry cocktail.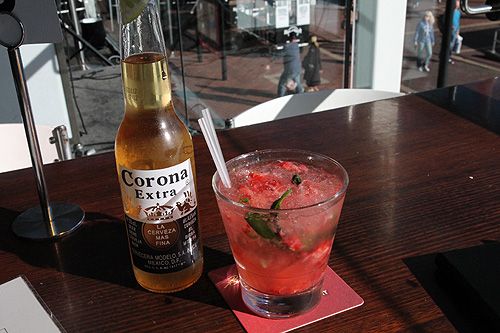 Mr J was delighted to find out the Corona Extra was the imported, original kind from Mexico, which apparently is a good thing. He was a happy kid.
Fresh from our recent Southeast Asian trip, I was still stuck in our beach-laden holiday (and frankly was quite happy to stay there) and so the prospect of drinking an Asian-inspired drink excited me.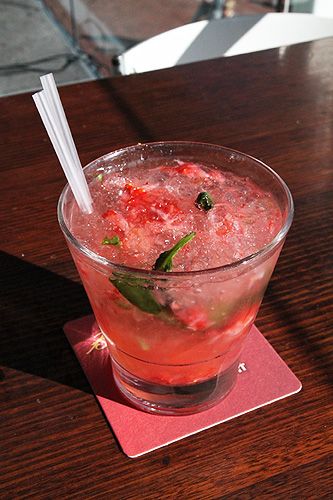 Our mains soon arrived, and Mr J had the black angus sirloin steak with hand cut chips and fresh salad. The medium rare steak was cooked perfectly, the salad was fresh and crisp and the peppercorn sauce gave the dish a good kick.
I'm a fan of mussels and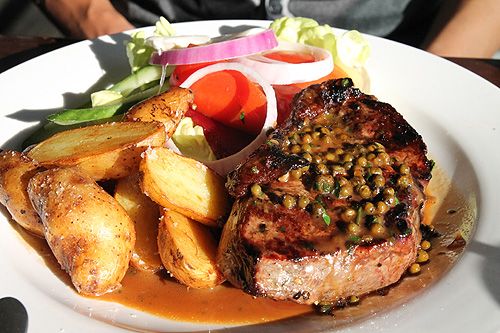 again, having just been back from devouring plates and plates of seafood whilst in Bali, I was still craving for more seafood. Mussels? Check. Thai? Check (again, I'm still in lala-Asia…). Ginger, chili, coriander, lemongrass and coconut milk soup? Check. The Australian mussels were so succulent and the sweet, salty, spicy soup was just so right. A side of chips pretty much made the trip to the gym earlier that morning worth it.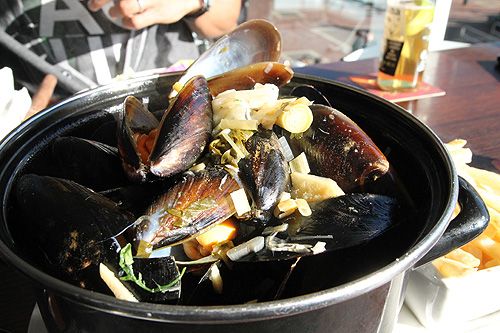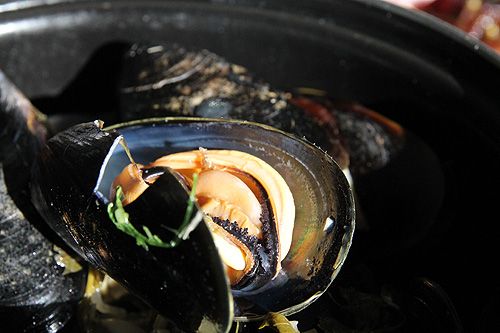 And yes, the mussels come in their traditional Belgian mussel pots. Best thing about this is the convenience of putting the empty mussel shells on the lid.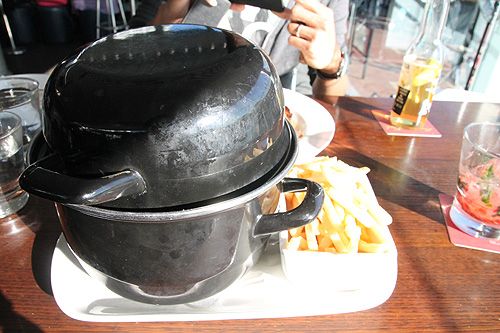 I still had room for one more cocktail, so I ordered the Ginny Hendricks because I wanted to be girly and drink from a martini glass, and also for its incredily catchy name. Yes, I am not hard to please. The drink was refreshing thanks to the muddled cucumber and you get that instant warm hit of Hendricks gin. Mmmmm…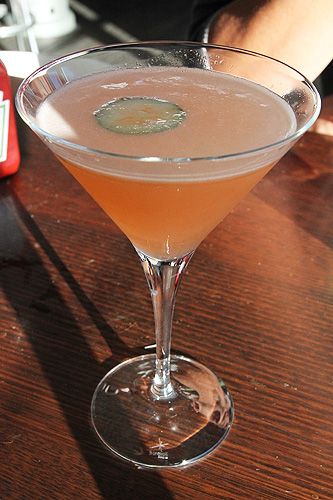 When it's a proper time for a lady to drink (ie sunset and I'm in my party/drinking mood), I'd like to have more of these cocktails please (no, I do not have a drinking problem… swear!). As I said, I'm not a hard girl to please… just give me a bowl of mussels beforehand and a glass or two of something sweet and with alcohol and I'm all set. Thanks Helm Bar for pleasing this girl right here.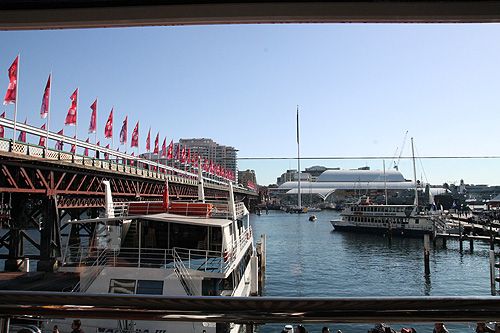 There was also the Jazz Festival on that weekend so off Mr J and I went, tripping and frolicking around in our alcohol and food-induced state, just happy to be under the warmth of the sun and with full tummies.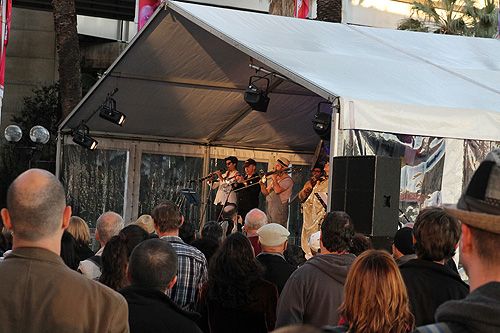 Oh, did I mention this was our first lunch date back in Sydney as husband and wife too?
Happiness.
Trish & Mr J dined as guests of Helm Bar. Thanks to George of Wasamedia and Helm Bar for the kind hospitality.
…
Wheat Road  Sydney NSW 2000
9290 1571