Sundays are usually lazy days for Mr J and I. We rarely get to eat a hearty breakfast/brunch during the week due to our early start at work, and on Saturdays we head over to the gym so only a light, muesli bar is usually consumed. But on Sundays, the agenda usually involves: sleeping in, big breakfasts and walk along Coogee Beach.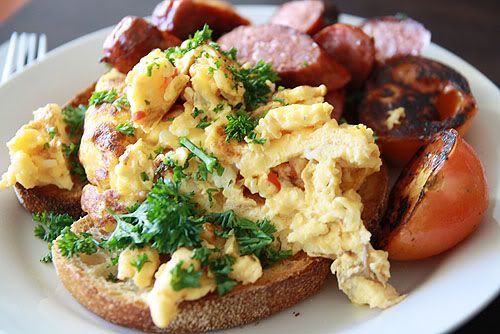 On this particular Sunday, Mr J had bookmarked a recipe from the Bitton Cafe cookbook and had wanted to serve this with some amazing Sonoma country sourdough bread. I, of course, had no complaints.
This dish is best served in those mornings when you're craving for a heavy brunch, or need that carb-loaded, spicy and tasty hangover cure. Whatever the need is, this dish has the absolute answer.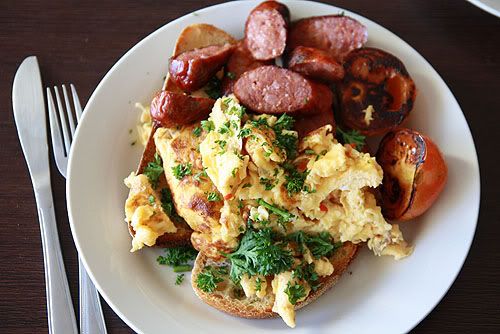 Chilli Scrambled Eggs with Wood-fired Bread
Adapted from David Bitton A French-inspired cafe cookbook
8 large eggs
120ml thickened cream
50g butter
1 tbsp fresh chilli, chopped
1 clove garlic, minced
1 tbsp parsley, chopped
4 slices sourdough bread, toasted
Salt to taste
80g semi-dried tomatoes, for garnish
Pan fried or grilled sausage or chorizo, if desired
1. Whisk eggs, cream and salt together in a bowl.
2. Place butter, chilli, garlic and parsley in a pan under medium heat. Add whisked eggs and cream, and stir until the egg mixture has set and the texture resembles that of scrambled eggs
3. Arrange the toasted sourdough bread on a plate. Place the scrambled eggs on top of the bread, and strew the semi dried tomatoes over. Add a side of spicy chorizo or sausages of your choice. Enjoy!