Ever since getting hold of what I believe is the ultimate chewy cookie recipe, cookies have been flying out of the oven faster than I could get the oven to cool down. I am on a quest to experiment different combinations with this base cookie recipe and it has been going smoothly so far.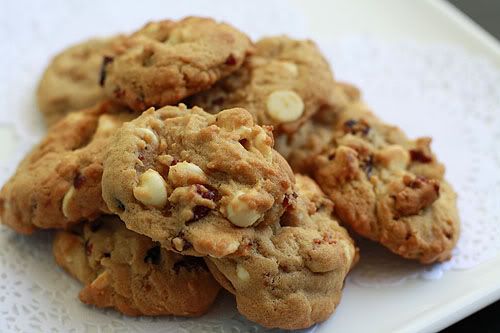 Because this recipe yields almost 4 dozen medium sized cookies, it has been difficult for Mr J and me to finish them. They are absolutely heavenly, but 4 dozen cookies is a bit too much for two stomachs. Enter the help of eager beaver family and friends who are willing (and able!) to be my guinea pigs. Oh yes my pretties, cookies out of the oven, cookies inside the tummies.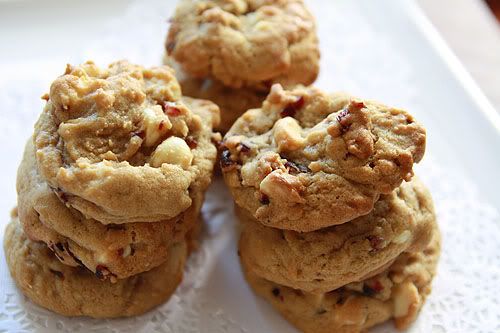 We celebrated Father's Day this Sunday (today!) and seeing we were going to see Mr J's family for lunch, I hatched a plan on using them as my guinea pigs. Cranberry and white chocolate is a combination I came across after eating millions of kilojoules of ChocolateSuze's absolutely fantastic biscotti creations, and this worked so well with the chewy cookie recipe. It was also well received by the entire family, so much so that a second appearance of the white chocolate and cranberries were promised.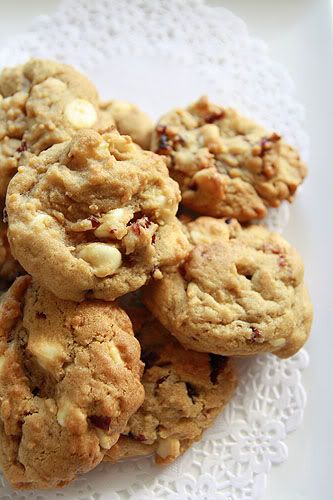 Cat's Chewy Choc Chip Cookies*
Recipe adapted from Cat Juan Ledesma's Soft and Chewy Chocolate Chip Cookies
1 cup caster sugar
1 cup packed brown sugar
300g softened butter
2 teaspoons vanilla extract
3 eggs
4 1/4 cups all-purpose flour
2 teaspoons baking soda
1/2 teaspoon salt
1/2 cups chopped cranberries
500g white chocolate chips
1. Preheat oven to 180 deg C.
2. In a bowl, mix both sugars and butter until soft. Add vanilla and eggs and beat well. Beat in flour, baking soda and salt, and stir in cranberries and chocolate chips.
3. Using an ice scream scooper, scoop the batter on to a greaseproof baking sheet. Ensure there is enough room in between the scooped cookie as it will expand during baking time.
4. Bake for 8 minutes. Remove from oven and allow to cool for 2 minutes before transferring to a cooling rack. Cookies may appear too soft at first, but will harden once cooled through. Enjoy!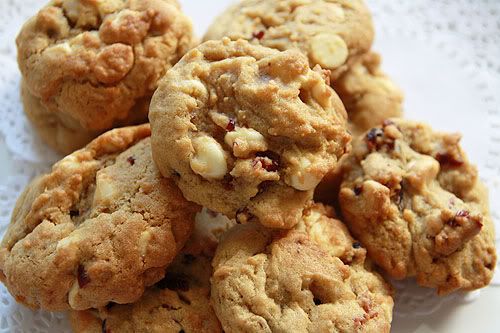 …
To celebrate spending time with families, this Saturday 10th September 2011 the Powerhouse Discovery Centre at Castle Hill is holding an Open Day for "EAT History". From knowing about recycling and the history of Vegemite to seeing the Junior Masterchef Top 12 Nick Lieurance cook, this is surely a fantastic way to spend your Saturday with your family.
Thanks to Powerhouse Museum Discovery Centre, Sugarlace is giving away a family pass to attend this fun-food-filled day at Castle Hill. Simply leave a comment and email on this post, and a reader will be randomly selected to receive the family pass on Wednesday 7th September 2011.
Many thanks to the Powerhouse Museum Discovery Centre 172 Showground Rd Castle Hill.
NB: The complimentary family pass is for entrance to the Open Day.