The great thing about Sydney is there is always something new on every turn and every corner, guaranteed. After living here for years and years, it still amazes me that I've only touched the tip of the iceberg of what this beautiful city has to offer.
Dining ideas are abundant in this great city. Sydney pretty much has everything, even some interesting finds like Uighur cuisine that Helen featured in the past (a restaurant still flooded with queues of hungry diners). Mr J and I will pretty much eat anything, and on this occasion when he and I were thinking of how to celebrate the end of the week, an idea came into mind: why not discover what the back streets of Darlinghurst have to offer?
Luckily for us, The East Village was just the right drug the doctor ordered. It was our kind of place too: a beautiful pub/bar downstairs with fresh flowers on each table (a pub with fresh flowers? DELIGHTFUL), and a low-key, relaxed dining space upstairs. We were famished and with eager beaver stomachs and a head full of beautiful wine, we worked our way up the stairs and immediately welcomed by the hustle and bustle of the kitchen, before being greeted with a smile by Mick, our wonderful host for the evening.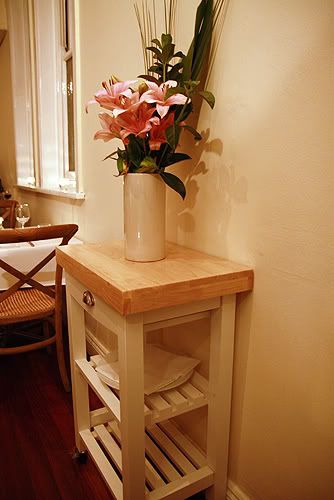 We were seated on a nice corner of the restaurant, with perfect city views and amongst some really great furnishings. I felt like I was in one of those beautiful home furnishing showrooms. I loved the country French accents around the place and vowed our apartment will receive a total redecoration of white flowers, rustic furnishings and lots of low lighting (much to Mr J's not-so-amused face).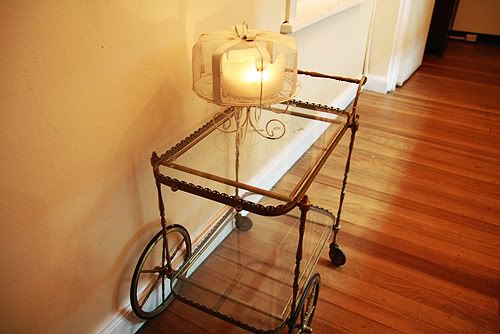 I so wanted to take these pillows away with me, but people might think I suddenly fell 8 months pregnant in 2 hours if I hid it under my shirt. Pregnant, or someone who just ate half a cow.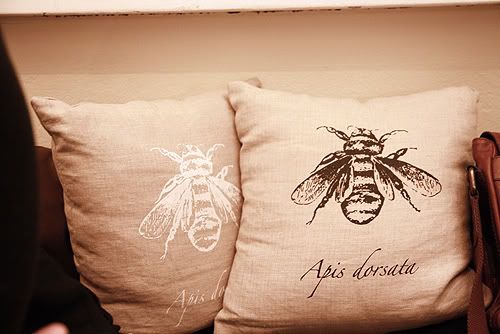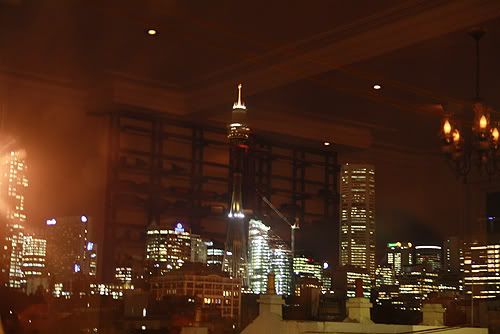 Enough about the furnishings and more on the food, yes?
Savoury bread scrolls, extra virgin olive oil, sea salt and smoked salts
I was extremely curious about the smoked salts. As anyone can imagine, it had a woody and smoky flavour and went perfectly well with the soft, moist warm scrolls dipped in the olive oil. I have a weakness for good bread and salty oil, and this paired with our wines was the perfect start to our meal.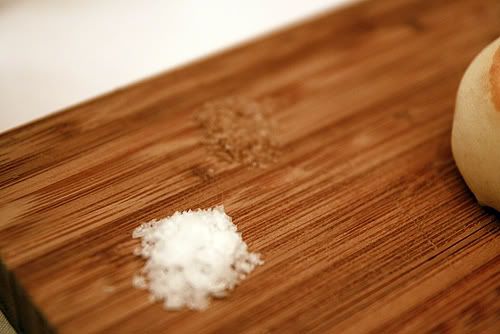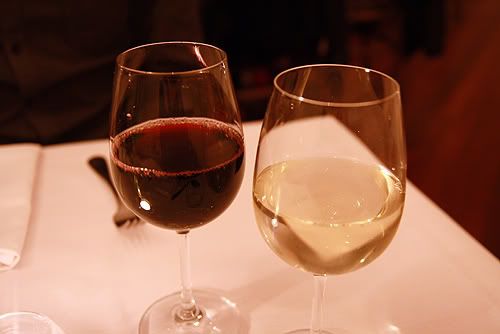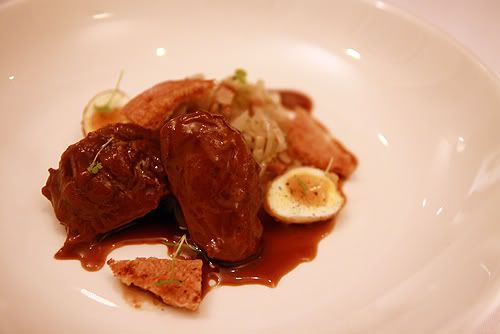 The pig cheek was melt in your mouth goodness, with the right warmth from spices that complemented the tenderness of the meat well. The crackling was just spectacular, but the crisp quail eggs deserve special mention. We were fighting over who gets the other half as it was so delightfully moreish.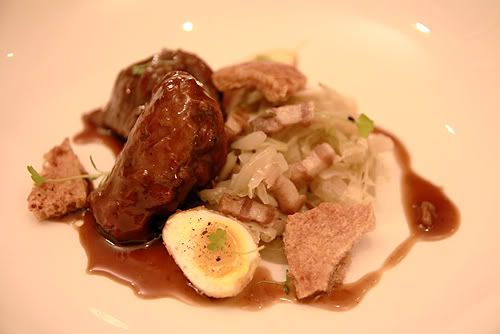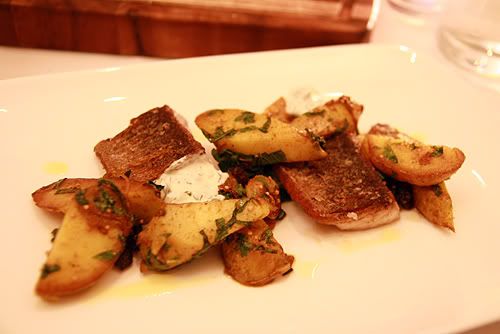 Echoing the warmth of the spices in the earlier dish, the potatoes went extremely well with the coolness of the raita. King fish was cooked to fresh perfection but with that added crispy skin crunch.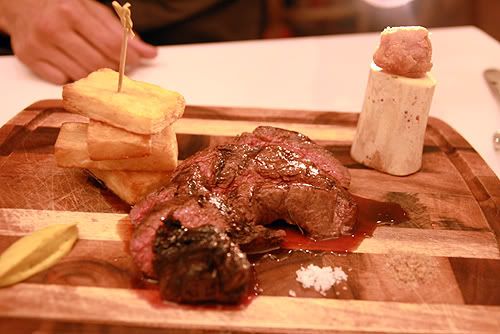 All eyes were on this beauty as Mick paraded it from the kitchen to our table. There was the re-emergence of the smoked salts. But the main attraction was indeed the big, red, medium-raw, wonderful slab of perfect wagyu meat.
What is that stonehenge-looking column with a ball on top? The bone marrow, Trish you silly goose.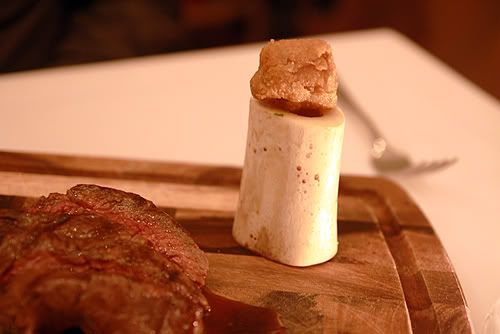 What about those big, beautiful hand cut chips?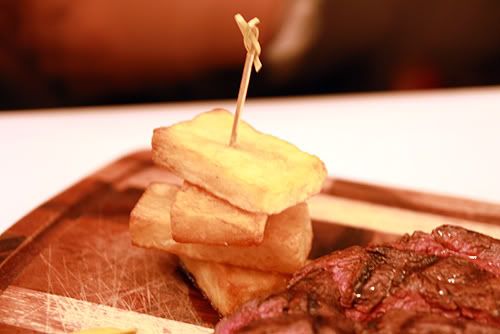 As soon as the mains were polished off, Mick gleefully comes up to our table, dessert menu in tow. We asked for any recommendations, and Mick gladly offered two that sounded delightful. Little did we know that the dessert to be put infront of us in the next few minutes will be totally mindblowing that I nearly fell off the chair.
Nearly.
Behold, the aforementioned nearly-falling-off-Trish's-chair dessert,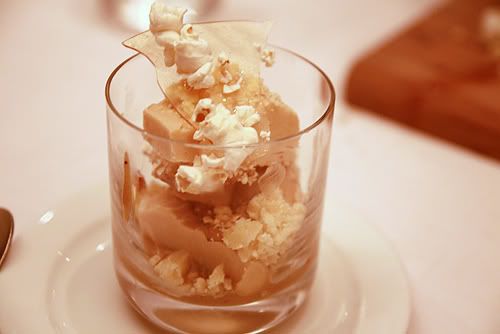 This was such an adventurous dessert and ticked all the right boxes. All senses were going on overdrive as the crunch, pop, and smooth slide of the dessert goes from spoon to tongue to belly. The five components of this dish – peanut butter, banana, jelly, toffee and popcorn – altogether makes a revolutionary piece de resistance.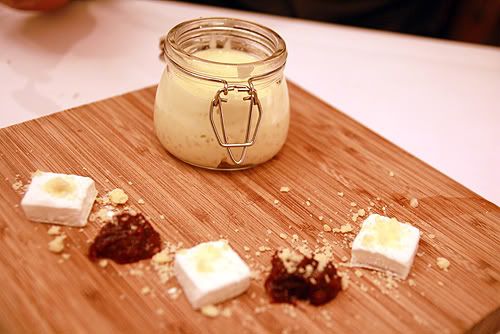 Following on from the "five components" of the earlier dessert, this next one did not disappoint. I found a certain childish enjoyment in opening the fido jar of rice pudding and coconut milk. I felt like Winnie the Pooh, digging my hands into a "honey pot" of wonderful goodness.
It was such a delightful dinner that left us with a feel-good warmth on that cold, rainy winter evening. I wanted to embrace the head chef Adam Spencer and exclaim to him that, "You're not only a young gun, but a top chef rifle". But alas, I think I might need another glass or two of wine beforehand.
It was the perfect end to a long working week, and the experience was above and beyond what we expected. We are eagerly anticipating for the opening of the rooftop area, and cannot wait for more epic, fall-off-the-chair dining experiences. And this time, I may truly fall off the chair (with me, you never know).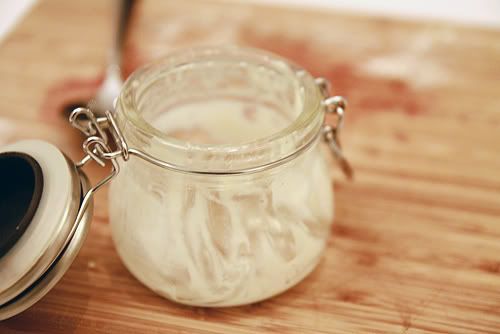 Sugarlace and Mr J dined in as guests of The East Village.
…
234 Palmer St
Darlinghurst
NSW 2010
Phone: (02) 9331 5457
Fax: (02) 9331 8729