It has been more than a month since I last wrote something here. Honestly, I have been dying to blog again but finding time was the hardest after the craziness of the past month. Never did I imagine that all these things would be happening at the same time.
If you could indulge me, just for a few lines, I would like to proudly elaborate some of the things that happened. Well, this is my blog anyway, and as if you have a choice. Hwek hwek hwek.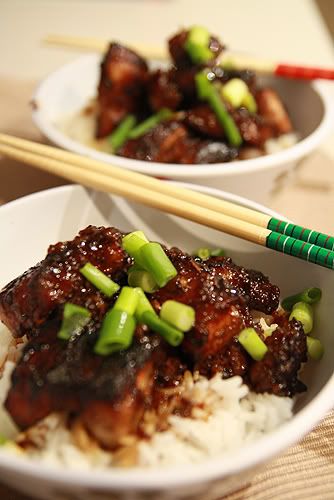 Well, in March, we bought a property. We meaning Mr J and I.
And then, we started packing up.
And then, we moved in.
And then, we unpacked everything. And boy are we still living in boxes even up to now! Unpacking is one of the most tiresome things one has to do when moving. Ok, I take it back… packing and moving is one of the most stressful, but unpacking is one of those things that I put off all the time. Procrastination always bites me!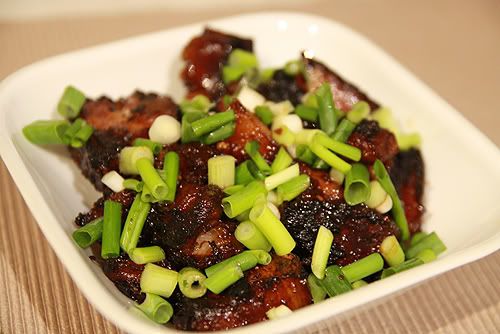 But, let's retrace a few months back in January. One balmy night, Mr J and I were watching the Del Potro v Baghdatis Australian Open match.
And then things started getting weird.
It was an ad break. Mr J surprisingly nervous. Suddenly, everything was a blur.
One knee on the floor, a ring in his hands, and me in utter, utter sheer shock and surprise.
So how do I break this to you, dear readers? How do I inform you that Mr J, who is usually known as a quiet, shy, introvert person had it in him to go down on one knee, proclaim his love for me, hold out his heart (and ring!) on his hand, offer the world and beyond to me, and propose his wholehearted and sincere love and affection and devotion to a very shocked but very happy me?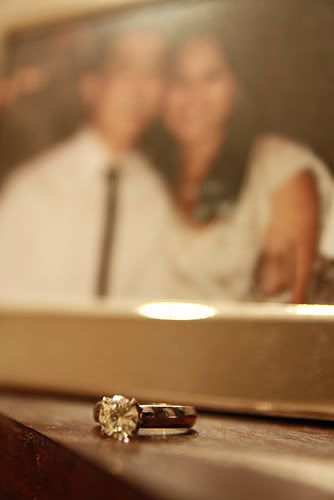 So yes, two grown up decisions at the start of 2011. A property purchase, and a proposal.
So you see, I was busy and absent from blogging, but for some very good reasons.
And because of my absence, I believe I owe it to you to offer something extra special to commemorate these two milestones in my life. So, I decided this Jamie Oliver inspired recipe, but with a bit of a twist: it's twice cooked, and it's fried! Yes, I almost always deter away from frying – everyone knows when the fat of the pork gets in contact with hot oil, you end up with crackling, exploding lard and THAT IS SCARY! But for you, my kindest, dearest readers, I will fry anything and everything… once in a while. So, I give you…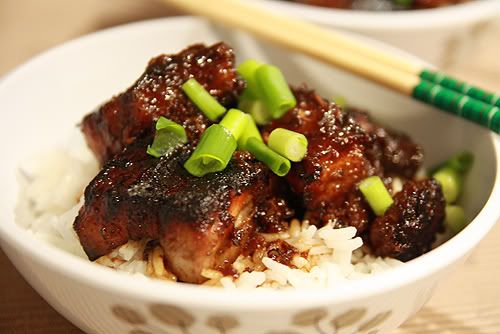 Twice Cooked Garlic, Ginger & Five Spice Crispy Pork
1 kilo pork rashers or pork spare ribs, cut into chunks
2 cloves garlic, minced
1 small "thumb" size ginger, minced
4 tbsp sweet soy sauce
1/2 tsp dried chili flakes
1 tsp five spice powder
2 tbsp brown sugar
Peppercorns
1. Pre-heat the oven to 180 deg C.
2. Mince garlic and ginger in a processor. Add all the other ingredients and pulse to combine: soy sauce, chili flakes, five spice powder, brown sugar and peppercorns.
3. Lay out all the pork meat in a baking tray. Spread the soy, garlic and ginger mixture and combine evenly with the pork. Cover with aluminum foil and place in the middle rack of the oven. Bake for 1 hour – 1 hour 15 minutes. Ensure you turn the pork once or twice throughout the cooking process.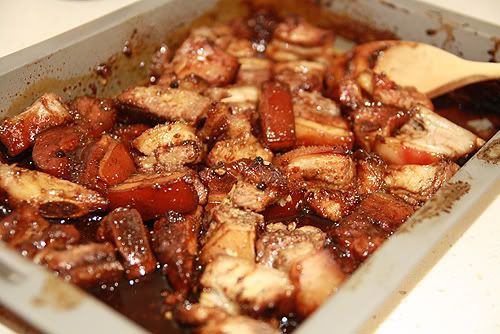 4. In a pan, heat oil for frying. Fry the cooked pork for 2 minutes on each side. Be very careful as the pork fat "explodes" so ensure that all work and cooking surfaces are properly covered.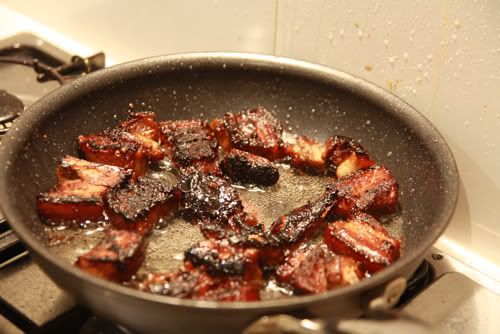 5. Sprinkle some sliced spring onions and serve with rice. Enjoy!