One weekend not too long ago, I had a date with myself. Sometimes, life can just get so exhausting that you forget to take some time off, rewind and restart your whole being. I was lucky enough to have a day off on a weekday to myself – nothing planned for the day, just Sydney and myself and the promise of an empty day ahead.
It was nice, and boy did it help keep my sanity.
I decided to visit Westfield Parramatta and spend the day walking around the huge shopping centre. I got there early, looked for a place to have breakfast, ordered coffee and something the waiter had suggested, got the morning paper, and sat down to wait for my breakfast. I was walking on sunshine. Nothing could ruin my day, and even if something did I wasn't going to let it take over me. It was my day, and I was going to have a damn great time.
The waiter recommended something special off the menu – Spanish chorizo omelette with feta, mozzarella and served with toasted Turkish bread. It sounded like the perfect start to my wonderful day. As soon as the still-hot pan with the omelette resting inside was set down infront of me, I knew it was going to be a fabulous breakfast.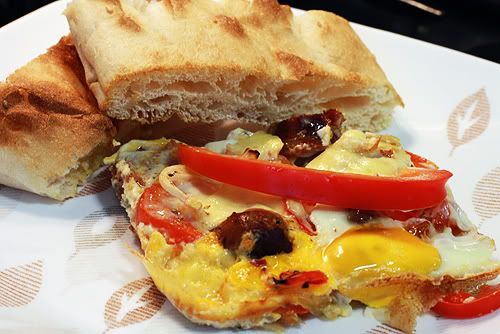 So fabulous that I was so excited to share it with Mr J and my sister at home. I tried replicating it, imagining the different tastes and textures, guessing the ingredients and ensuring that I give the dish justice. It was fun experimenting and the results were as I expected! Of course, kudos to Mr J and my sister for appreciating what I've cooked for them too (or they just felt compelled to like the food otherwise, well, they starve!).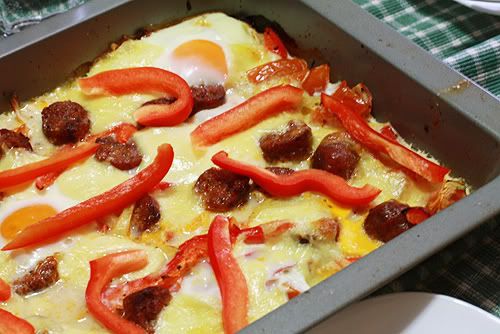 Spanish Chorizo Omelette with Turkish Bread
Makes approximately 4 servings
4 medium size Spanish chorizo, cut into round slices
1 onion, sliced
1 green or red capsicum, sliced
300g mushroom, sliced
6 eggs, unbeaten
250g mozzarella balls
250g feta cheese, sliced
Salt and pepper
1 loaf Turkish bread, toasted
1. Preheat oven to 220 deg C.
2. In a frying pan, fry the chorizo slices for approximately 5 minutes. Set aside.
3. In a baking pan, place the chorizo slices, capsicum, onions and mushroom. Crack the six eggs sporadically in between the vegetables, ensuring to cover most of the vegetables and chorizo.
4. "Tear" the mozzarella balls and sporadically place in between the yokes in the baking pan. Do the same with the feta cheese slices.
5. Add salt and pepper. Place in oven and bake for 10-15 minutes or until the cheese has melted and the omelette is golden colour. Remove from oven and serve with warm toasted Turkish bread.
NB. If the onions are too hot or raw for your liking, simply fry them before adding in the baking pan to soften them a bit.