Christmas in the Philippines is truly special.
Fun fact #1: We start preparing for Christmas as soon as the "-ber" months roll in – September, October, November, December – until probably mid January. Yes. We love our Christmas. Apparently, the Philippines is the longest Christmas celebrants in the world.
Fun fact #2: The coolest weather rolls in around November/December, so everyone starts sporting jackets and wearing knits around town. We're talking about temperatures between 25 to 30 degrees. Celcius.
Fun fact #3: Jose Marie Chan's "Christmas In Our Hearts" is one of the biggest selling albums in the history of Philippine music. It was released in 1990, and everyone knows the title song. It is so popular that people still buy the album even when it's not Christmas. True story! (I know because my aunt worked for the records company that distributes it, and tells me that it's always sold out – whether it's May or December).
Fun fact #4: Trish gains weight – alot of weight – from all the Christmas eating. We're not talking about fresh fish and seafood and summer fruits and all things healthy and un-fried. We're talking about sugared ham, Leche Flan, sweet, sticky rice desserts and dinners at 12 midnight of Christmas Eve.
Still not convinced that Christmas in the Philippines is a wonderful, colourful event? Why not check out Christmas in November, Saturday 20th November at Parramatta Town Hall from 11am onwards?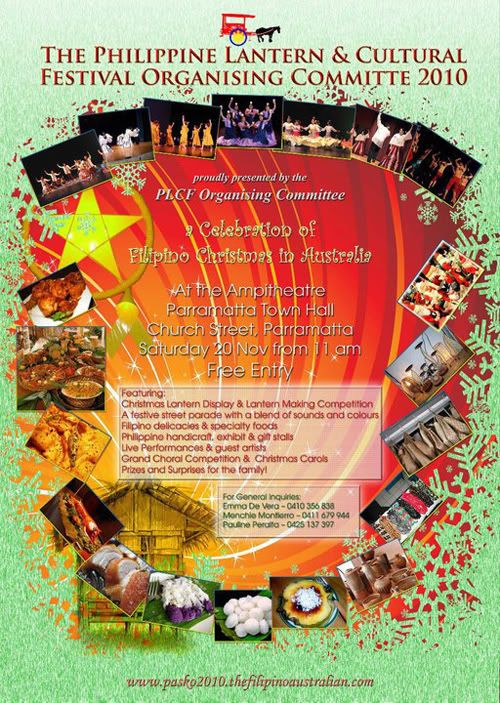 Oh and lastly…
Fun fact #5: Filipinos love anything free. And this is free entry.
See you there!
…
Disclaimer: This is not a sponsored post. Trish just loves Christmas and if you haven't gathered yet, she is Filipino.