One of the first cakes I've ever tasted here in Australia is chocolate mud cake.
The Woolworths kind.
You know, the one that comes in those plastic containers, with a clear plastic dome cover and black plastic base? The one that what appears to be a huge muffin liner and drizzled with white frosting?
The one that goes on sale for $4.99 when it's on it's last days of shelf life?
Yes, that kind. And I thought it was the best chocolate cake I've ever tasted. But don't get me wrong. Cakes in the Philippines are not so bad. I guess it's just different baking technique and recipes, but cakes in the Philippines seem to be more on sugar and butter and sugar flower decoration than actual taste. Or, maybe it's just the ones I've tasted in the first 14 years of my life.
But I digress. Let's go back to chocolate mud cake.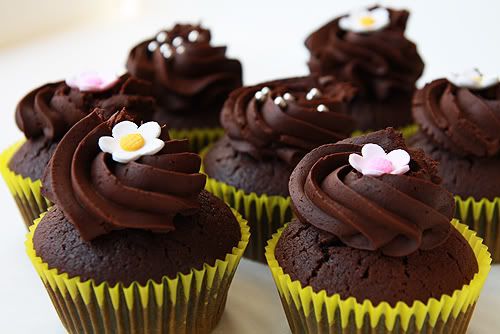 I didn't even know the difference between mud cake, chocolate cake, chocolate torte and devil's food cake. Aren't they all the same?
Fast forward 10 or so years later, when I actually started baking and had an epiphany: Trish, how can you be so ignorant? Of course there's a big difference between those cakes, along with chocolate buttercream, chocolate fudge and chocolate ganache.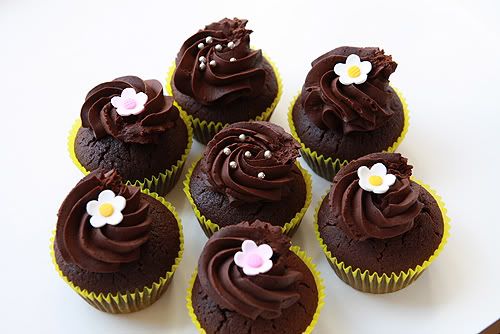 I'm happy to say that I have tried plenty more varieties of the chocolate cake/mud cake/torte kind, but the feeling of tasting that first cake here in Australia still lingers. And it's a nice feeling.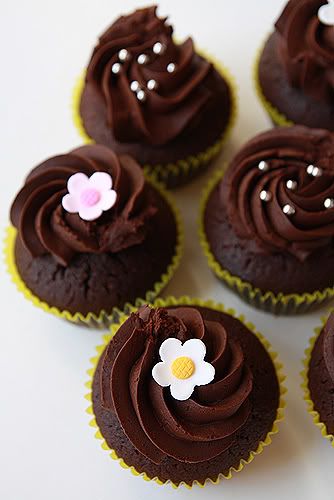 Chocolate Mud Cupcakes
Recipe adapted from Exclusively Food
Makes approximately 12 cupcakes
200g dark chocolate, broken into small pieces
125g butter
1/2 teaspoon instant coffee granules
1/2 cup water
1 cup plain flour
2 tbsp cocoa powder
1/4 teaspoon bicarbonate soda
1 cups caster sugar
2 large eggs
20 ml canola oil
1/2 teaspoon vanilla extract
1/4 cup buttermilk


1. Pre-heat oven to 180 deg C. Line baking tray with muffin liners.
2. In a saucepan, melt chocolate, butter, coffee and water together while stirring constantly. Once melted, remove from heat and set aside to cool.
3. In a separate bowl, sift together flour, sugar, bicarbonate soda and cocoa powder. Add salt if using unsalted butter.
4. In another bowl, mix together buttermilk, eggs, vanilla and oil. Add this to the flour mixture.
5. Add the cooled chocolate mix to the flour batter in alternate batches.
6. Pour into prepared baking tray and bake for 20 minutes. Set aside to cool.
Ganache
300g dark chocolate, broken into small pieces
1/3 cup thickened cream
1. In a saucepan,  heat the thickened cream and bring to simmer.
2. Remove saucepan from heat and add chocolate pieces. Stir together until chocolate has melted into the cream.
3. Set aside to cool, or place in fridge for 5-10 minutes to thicken the consistency. Pipe onto cooled cupcakes.