There are certain things in life that go well together. Really well together.
Like peas and carrots.
Ham and egg.
Sonny and Cher.
Eep.
Ok let's go back to business.
There are certain things in life that go well together. So much so that oftentimes, Filipinos have a certain tendency to follow their American counterparts and put together two different things or individuals to form one being. Like the "loveteam" celebrities. The US has Brangelina? The Philippines had Guy&Pip, Maricel & William, Romnick & Sheryl (oh dear is this showing my decade?) and Kimerald or Kim & Gerald (mum… and my favourite! Yes, I'm a closet jologs). What about naming your kid after the 3 big parts of the Philippines? Luzviminda – Luzon, Visayas & Mindanao.
This also goes with food. Whether it's because of creativity or uh a certain knack for laziness (I like to think of it as easy-going), certain Filipino foods have been christened with names that I reckon are just sheer genius.
Repeat after me. TAPSILOG.
TAPSILOG.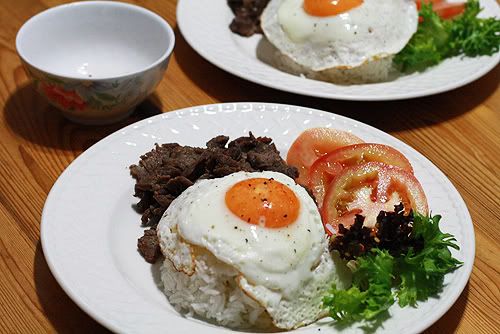 Tapsilog is a combination of 3 key ingredients that make up a whole meal. Tapsilog equates to tapa (cured beef strips), sinangag (garlic fried rice) & itlog (eggs). Geddit? Good.
Where is the Spanish in all of this? Well, everyone knows that one of the most famous Spanish dishes available in the whole world are tapas. From good old chorizo, to the more ecclectic and interesting sweetbreads that I've recently tasted, Spanish tapas have graced the tables of both pubs and restaurants alike.
Tapas, or tapa, in the Philippines is a wee bit different though. Yes, we've adopted the word tapa but I believe it is only in reference to the "bite size" pieces of the Filipino beef tapa version, rather than the actual concept of Spanish tapas. There are no variety of appetisers served, nor is this dish served with alcohol (well, you could, not unless you want to drink beer for breakfast). This is just a simple dish served at breakfast, eaten with much gusto and has the tendency to possibly, maybe not, but most definitely, could probably solve all the problems in the world even for just 15 minutes while you're eating it. Trust me.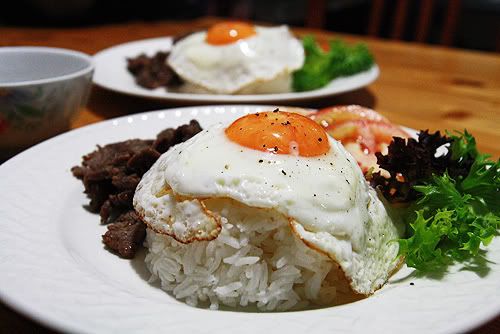 And thanks to Acdee of http://acdee.blogspot.com/ and Ziggy of  http://www.myfilipinokitchen.com/, for this month's Kulinarya Cooking Club September theme, we're now going to delve into the deepest, most pristine depths of this wonderful creation known as the Filipino Beef Tapa!
Tapa in the Philippines is only 1 dish: salt-cured beef strips, marinated overnight and fried, served with a generous serving of garlic fried rice and a side of sunny side up. All washed down with a steaming cup of coffee. Serve during breakfast, utensils not necessary. There could be the sound of the rooster in the background, or the smell of smoke as Grandma rakes the dry leaves outside, or the low hum of a distant motorcycle. If only I could describe my memories as a kid waking up to a Sunday morning and all the senses that go with eating this hearty breakfast, I would. But alas, I can only describe it to you in words and photos.
If there is one great thing that the Spanish has left the Philippines, it is the love of good food.  The festivals, history and certainly food of the Philippines reflect the exoticism and colourfulness of the Spanish culture in so many grand and wonderful ways.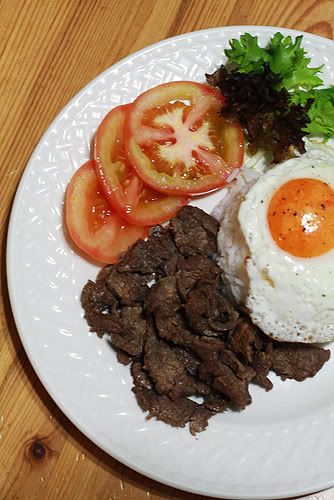 Mum's Beef Tapa
Mum's own recipe – serves 4
1 kg beef skirt steak, cut into stir fry pieces
1/2 clove of garlic, peeled and chopped finely
1 tsp salt
1 tsp ground black pepper
3 tsp raw sugar
1 tbsp olive oil
1. The night before cooking, marinate the beef. Combine garlic, salt, pepper and sugar in a dish. Mix together.
2. Add beef and massage the garlic mix evenly. Put on lid and place in the fridge overnight.
3. To cook: in a flat pan, heat oil under high heat. Add all the beef and replace lid. Let simmer for 5-10 minutes or until almost dried. Don't forget to mix the beef occasionally to prevent burning.
4. When the juices have almost dried, remove lid and continue cooking for about 20 minutes or until beef has tenderised and darkened in colour and all of the juices have simmered.
5. Serve with garlic fried rice and sunny side up egg. Enjoy!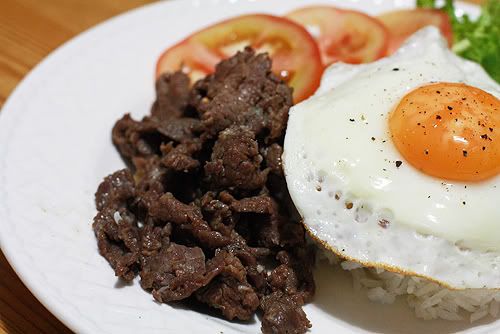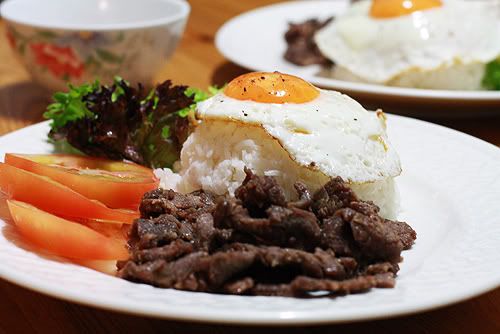 …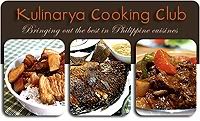 Kulinarya Cooking Club was started by a group of Filipino foodies living in Sydney, who are passionate about the Filipino culture and its colourful cuisine.
Each month we will showcase a new dish along with their family recipes. By sharing these recipes, we hope you find the same passion and love for Filipino Food as we do.
If you're interested in joining our Kulinarya Cooking Club, please feel free to drop by our foodblogs and leave a comment – we would love to hear from you!
Say hello to the other members of the Kulinarya Cooking Club!
Olive – http://www.latestrecipes.net/
Caroline – http://whenadobometfeijoada.blogspot.com/
Ninette – http://bigboldbeautifulfood.blogspot.com/
Peach- http://www.thepeachkitchen.com/
Althea- http://www.busogsarap.com/
Asha – http://forkspoonnknife.blogspot.com/
Malou – http://www.impromptudiva.com/
Cherrie – http://sweetcherriepie.blogspot.com/
Acdee – http://acdee.blogspot.com/
Valerie – http://www.acanadianfoodie.com/
Sheryl – http://crispywaffle.com/
Divina – http://www.sense-serendipity.com/
Anna – http://www.anniesfoodjournal.blogspot.com/
Dahlia – http://www.energychef.blogspot.com/
Joy – http://joyjoycreativeoutlet.blogspot.com/
Maribel – http://www.foodgeek.webs.com/
Tressa
Jen – http://www.jen-at-work.blogspot.com/
Pia – http://bisayajudkaayo.blogspot.com/
Malaka – http://thegrandinternational.com
Mimi – http://lapinchecocinera.blogspot.com
Erika – http://ivoryhut.com/
Kat – http://twitter.com/alanokat
Lala – http://thislittlepiggywenttothemarket.blogspot.com/
And of course… Kath of A Cupcake or Two and Trissa of Trissalicious!