My usual excuse for anything is this: I'm busy.
I do not hide the fact that sometimes I'm only just plain lazy to do most things (especially when it's the weekend and it's winter season). But I can honestly say, with my hand in my heart, that I have been heck busy lately. So busy that my usual routine of 2 posts per week is now down to 1; so busy that I haven't baked anything in two months; so busy that I'm usually in bed by 9.30pm because of sheer hagardness (my usual sleeptime is 11.30pm, mind!).
So I'm asking for your forgiveness in advance. I'm apologising for going the short cut route and simplifying a dish that is usually so colourful with a variety of ingredients that even I feel somewhat festive everytime I eat this dish. I'm talking about the Kulinarya Cooking Club theme for August… Lumpia! Thanks to Malou and Cherrie for picking the theme!
There are several different types of lumpia, including the infamous lumpiang shanghai (deep fried with minced meat), lumpiang sariwa (un-fried, "fresh" lumpia), and lumpiang hubad (without the wrapper, literally meaning naked lumpia) just to name a few. Oh, and don't forget the debut post for Kulinarya Cooking Club, Turon! I chose lumpiang sariwa because of a few things, but mainly because it's healthier than shanghai and to be honest… I'm scared to deep fry. But I also chose it because it was easier to cook and you can usually get away with it by using a few ingredients only.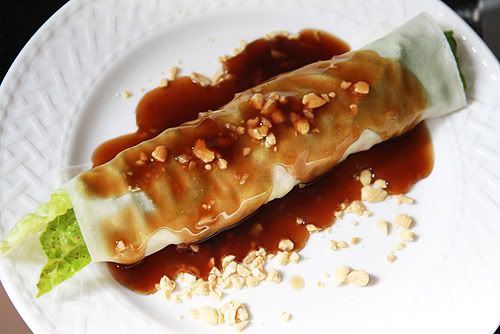 Simplified Lumpiang Sariwa
Makes approximately 8 medium servings
Lumpia
3 cloves garlic, minced
1 onion, chopped
Olive oil
500g chicken breast, minced
1/4 cabbage, shredded
Salt to taste
Lettuce leaves and crushed peanuts to garnish
8 lumpia wrappers (no-egg spring roll wrappers)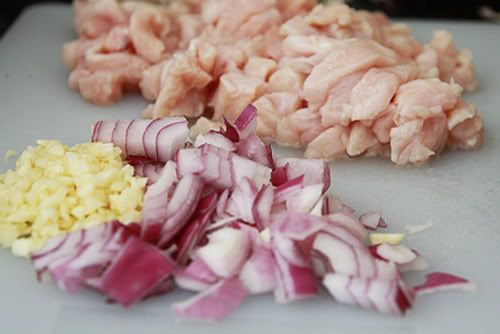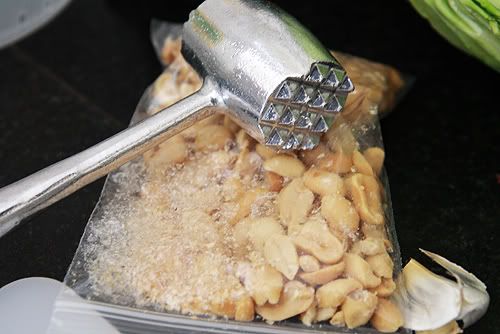 1. In a pan, saute the garlic and onion with olive oil until onions softened.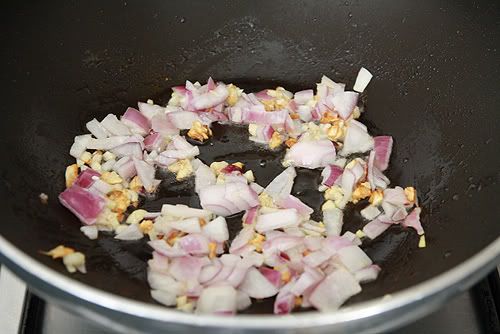 2. Add chicken and salt, and cook for approximately 20 minutes in medium heat.
3. Once chicken is cooked, add cabbage. Put on lid and cook for a few minutes until cabbage softens.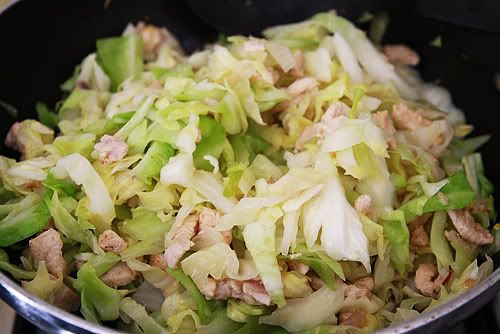 4. Set aside until ready to be wrapped and assembled.
Sauce
1 garlic clove, sliced finely
1 tsbp soy sauce
4 tbsp sugar
2 tsp cornflour mixed with 2 tbsp water
1 cup water
1. In a saucepan, place together garlic, soy sauce, water and sugar. Bring to boil until the garlic gets fragrant.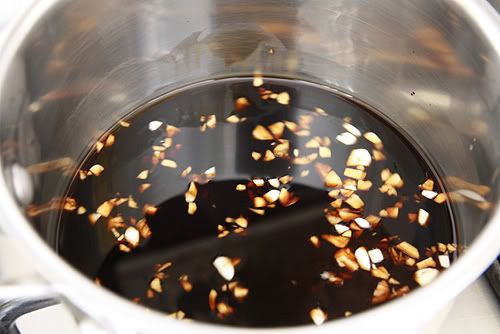 2. Add the cornstarch mixed with water. Mix until the sauce thickens.
To assemble
1. Place one wrapper in a wide, flat plate. Add a lettuce leaf in one side of the "pointy ends" of the wrapper.
2. Add about 2 heaping tbsps of the cooked, mixed vegetables and chicken on top of the lettuce leaf. Fold one side of the wrapper towards the chicken vegetable mix, leaving the other side open. Roll down and place on an empty plate.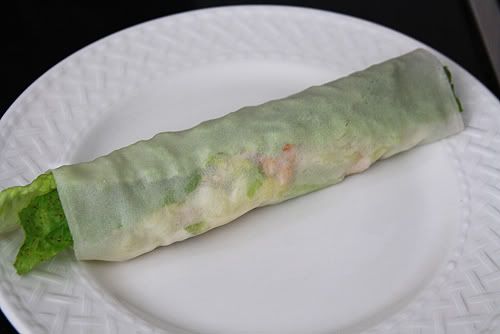 3. Sprinkle some crushed peanuts for that extra "crunch" and add pour the sauce on top. Enjoy!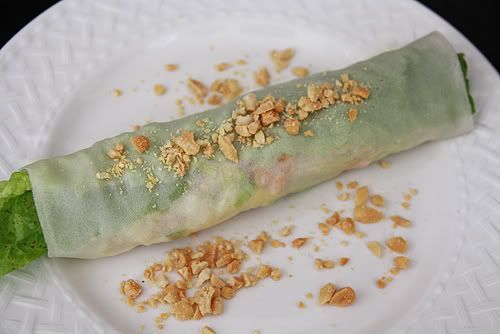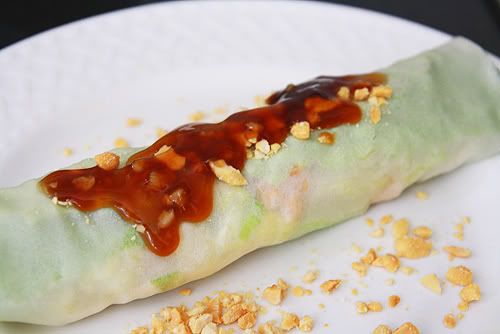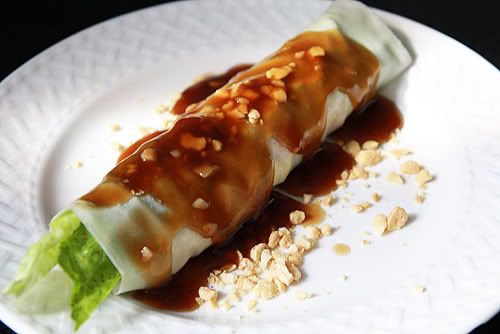 I must say, the key here is the sauce. The sweet, thick sauce can change the dullest lumpia into the most spectacular tasting dish ever created. The best part of this sauce? The thicker and stickier it is (thanks to the sugar!), the better and finger' licking good it can be!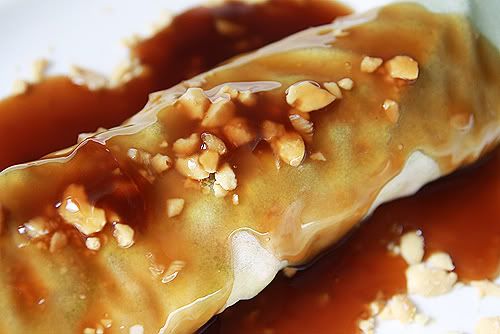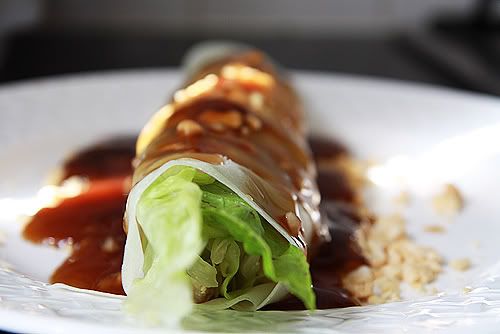 This is the simplest lumpiang sariwa recipe that you can find (in my opinion anyway, ha ha!). The typical lumpiang sariwa has bean sprouts (which I substituted with cabbage), carrots and ubod (heart of palm plant) which doesn't really taste of anything and is used mainly for added texture and fibre. I can probably say that my lumpiang sariwa version is the busy worker's version – quick and easy with only a few ingredients but still has that crunch and bite of a real lumpia!
After eating, or more like devouring, the lumpia, Mum had the brilliant idea of frying some of the left overs. As soon as I heard the words "deep fry" out of her mouth I was flying out of the kitchen. I'm not too fond of frying, much more deep frying, so I was just more than happy to leave this to the adult in the house to maneouveur (ie Mum!).
A few minutes later, enticed by the smell of food frying, I slowly crept out of the room where I was in and out in the daylight. The deep fried lumpiang sariwa leftovers are now… lumpiang prito (fried lumpia) or gulay (vegetable)!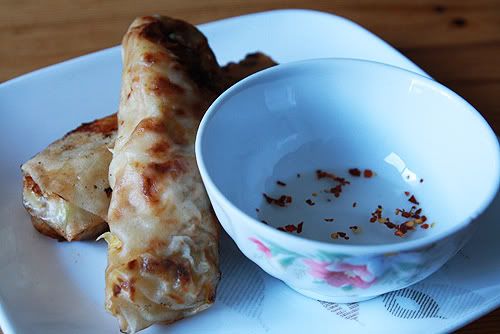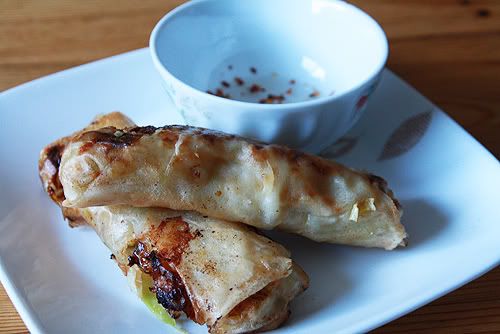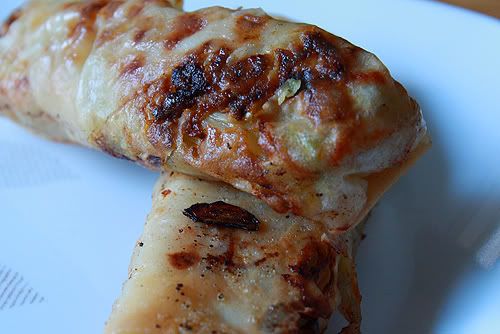 …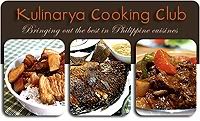 Kulinarya Cooking Club was started by a group of Filipino foodies living in Sydney, who are passionate about the Filipino culture and its colourful cuisine.
Each month we will showcase a new dish along with their family recipes. By sharing these recipes, we hope you find the same passion and love for Filipino Food as we do.
If you're interested in joining our Kulinarya Cooking Club, please feel free to drop by our foodblogs and leave a comment – we would love to hear from you!
Say hello to the other members of the Kulinarya Cooking Club!
Olive – http://www.latestrecipes.net/
Caroline – http://whenadobometfeijoada.blogspot.com/
Ninette – http://bigboldbeautifulfood.blogspot.com/
Peach- http://www.thepeachkitchen.com/
Althea- http://www.busogsarap.com/
Asha – http://forkspoonnknife.blogspot.com/
Malou – http://www.impromptudiva.com/
Cherrie – http://sweetcherriepie.blogspot.com/
Acdee – http://acdee.blogspot.com/
Valerie – http://www.acanadianfoodie.com/
Sheryl – http://crispywaffle.com/
Divina – http://www.sense-serendipity.com/
Anna – http://www.anniesfoodjournal.blogspot.com/
Dahlia – http://www.energychef.blogspot.com/
Joy – http://joyjoycreativeoutlet.blogspot.com/
Maribel – http://www.foodgeek.webs.com/
Tressa
Jen – http://www.jen-at-work.blogspot.com/
Pia – http://bisayajudkaayo.blogspot.com/
Malaka – http://thegrandinternational.com
Mimi – http://lapinchecocinera.blogspot.com
Erika – http://ivoryhut.com/
Kat – http://www.caterersearch.com/tabletalk/default.aspx
And of course… Kath of A Cupcake or Two and Trissa of Trissalicious!