Pinoy bar-be-cue. Usually reminiscent of pieces of meat on a stick, slathered with a special tomato-based sauce and barbecued to perfection under smokey charcoals and fanned by either newspapers, a cardboard cutout, or an abaca fan.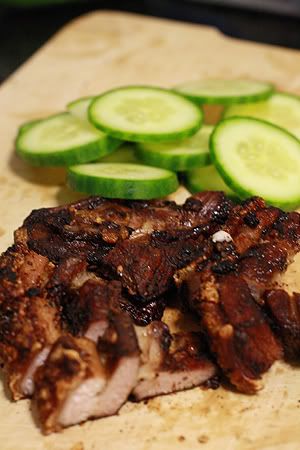 Don't even get me started on what other pieces of meat, apart from the usual pork belly or chicken meat, are barbecued because I don't want to lose my audience completely (trust me, they're animal parts that even make me retch).
But when you think about it, there are plenty other things – other delicious things – that are grilled and barbecued apart from meat skewers. Apart from the usual BBQ pork and chicken, there's grilled fish (my favourite is Tilapia), pusit (squid), even eggplants (perfect with a side of bagoong or even with fish sauce with calamansi)!
This month's Kulinarya theme pays homage to the wonderful afternoon snack or the fun pulutan that is Pinoy BBQ. We just don't usually season the meat with salt and pepper – we use an array of sauces, herbs and lots and lots of garlic to marinade the meat and baste it while under the grill. It is hard to put quantities in the ingredients too – as with all marinades, you just put together all the ingredients and let the meat marinade overnight.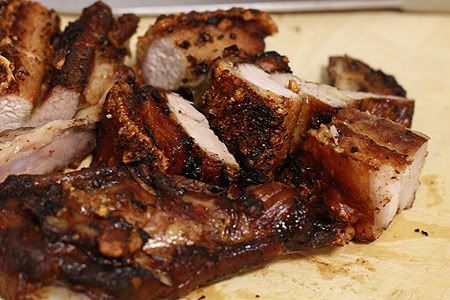 Pork BBQ
Pork rasher, pork belly
Garlic, chopped finely
Soy sauce
Salt and pepper
1. Put the garlic, soy sauce and salt & pepper together. Add the pork and marinade overnight.
2. In a grill or normal barbecue, place the meat and cook until meat is tender.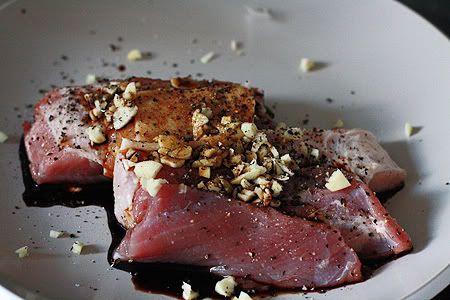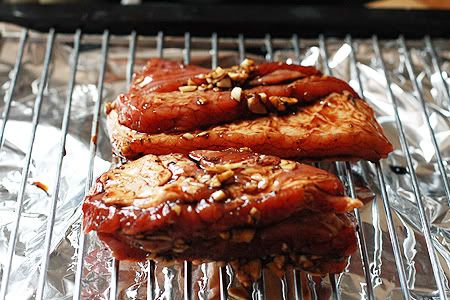 NOTE: I don't have a bbq at home so I had to use the oven grill. It doesn't have the same smokey flavour which can only be obtained from using charcoal or wood chips. I also got crazy with the fat bit of the pork and towards the last 10 minutes of cooking, turned the pork around so the fat is directly under the grill. The result?
Crunchy, fatty goodness!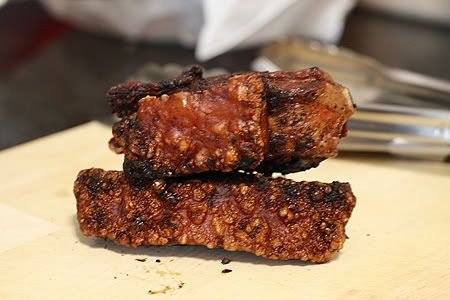 This is also best served with a family favourite sauce that may be deemed controversial in tongues other than Filipino – Mang Tomas' All Purpose Sauce!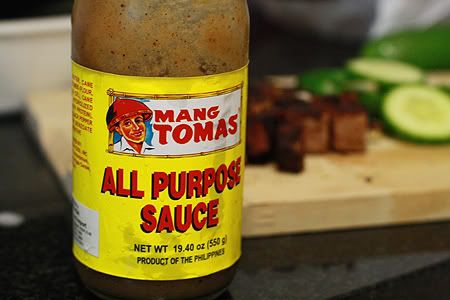 This is a sauce made of liver and comes as a brown sauce packaged in a bottle. Love it or hate it, Mang Tomas is the lechon sauce of choice (lechon is the roast pork of the Philippines), and also my choice of sauce for roast pork, fried chicken (yes!), grilled fish, bbq beef!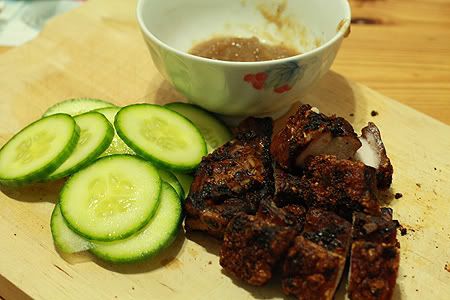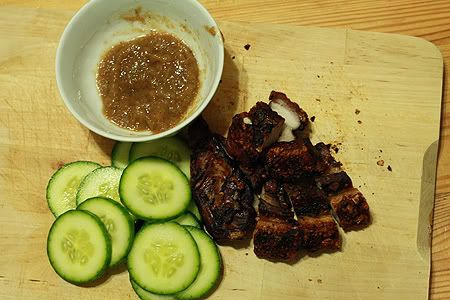 …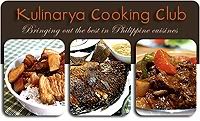 Kulinarya Cooking Club was started by a group of Filipino foodies living in Sydney, who are passionate about the Filipino culture and its colourful cuisine.
Each month we will showcase a new dish along with their family recipes. By sharing these recipes, we hope you find the same passion and love for Filipino Food as we do.
If you're interested in joining our Kulinarya Cooking Club, please feel free to drop by our foodblogs and leave a comment – we would love to hear from you!
Say hello to the other members of the Kulinarya Cooking Club!
Olive – http://www.latestrecipes.net/
Caroline – http://whenadobometfeijoada.blogspot.com/
Ninette – http://bigboldbeautifulfood.blogspot.com/
Peach- http://www.thepeachkitchen.com/
Althea- http://www.busogsarap.com/
Asha – http://forkspoonnknife.blogspot.com/
Malou – http://www.impromptudiva.com/
Cherrie – http://sweetcherriepie.blogspot.com/
Acdee – http://acdee.blogspot.com/
Valerie – http://www.acanadianfoodie.com/
Sheryl – http://crispywaffle.com/
Divina – http://www.sense-serendipity.com/
Anna – http://www.anniesfoodjournal.blogspot.com/
Dahlia – http://www.energychef.blogspot.com/
Joy – http://joyjoycreativeoutlet.blogspot.com/
Maribel – http://www.foodgeek.webs.com/
Tressa
Jen – http://www.jen-at-work.blogspot.com/
Pia – http://bisayajudkaayo.blogspot.com/
Malaka – http://thegrandinternational.com
Mimi – http://lapinchecocinera.blogspot.com
Erika – http://ivoryhut.com/
Kat – http://www.caterersearch.com/tabletalk/default.aspx
And of course… Kath of A Cupcake or Two and Trissa of Trissalicious!