When an awesome girl friend celebrates her __th birthday, there are certain things friends do to make it a special day, nay weekend, for her. She has the weekend away with her beloved, the laughters shared with the coolest of friends, the exchange of conversations that lasted well into the night – all against the beautiful backdrop that is the Australian landscape.
Cat is the sort of person who can switch from heels to runners and back again, and still looks fabulous in being both. She is both corporate and nature girl; both model and humble teacher. And because of these many attributes that makes Cat, well, Cat, I thought what better cake to give her than Ellie of Almost Bourdain's super rich extra special BEST OF BOTH WORLDS Gateau au Chocolate à la Fleur de Sel et Huile d'Olive (Chocolate Cake with Olive Oil and Sea Salt).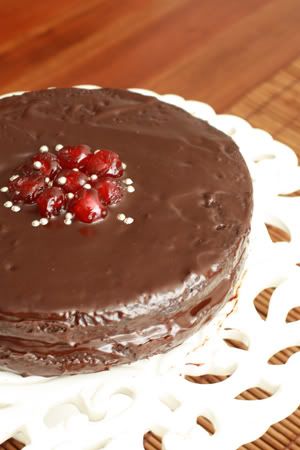 This, my friends, is a cake of gastronomic superiority. What makes it special is this: something so rich and dense and luscious as this must be a hard chore to make, no? Wrong. It is so simple to make I literally started cracking eggs at 8am, in the oven by 8.30am, out by 10am, and after cooling it and making the ganache, frosting by around 1pm. In the party by 4pm, and polished off by 5pm! I think the hardest part was waiting for the cake to cool down before I can splatter on the luscious chocolate ganache… oh baby.
And the best part? The addition of fleur de sel and olive oil was a different take on the whole cake-eating experience and IT WAS JUST MAGICALLY AWESOME!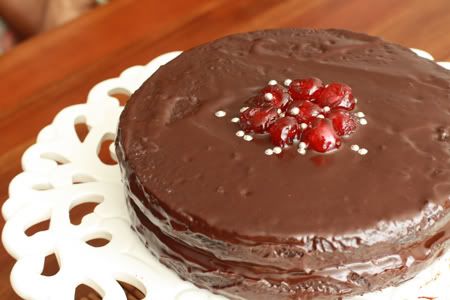 Gateau au Chocolate à la Fleur de Sel et Huile d'Olive(Chocolate Cake with Olive Oil and Sea Salt)
(Adapted from Trish Deseinea's Nobody Does It Better…)

200g dark chocolate, chopped roughly
200g unsalted butter, chopped into cubes (for easier melting)
4 eggs
150g caster sugar
60g plain flour
1½ tsp baking powder
Extra virgin olive oil
Fleur de sel flakes (sea salt)
Preheat the oven to 200 deg C. Grease and line a 19 cm cake tin with baking paper.
Melt the chocolate and butter together in a heat proof bowl over a saucepan of hot simmering water. Ensure the water does not touch the bottom of the bowl. Stir until completely melted.
Mix sugar and eggs until the mixture turns pale in colour and doubles in volume. Add the flour, a tablespoonful at a time, and the baking powder.
Fold in the melted chocolate and butter mixture. Stir well to combine.
Bake cake for 30-40 minutes. Test if the cake is cooked by piercing through the middle with a  skewer. If it comes out clean, then the cake is ready. If not, return to the oven and bake for a few more minutes.
Cool in wire rack before removing from the cake tin.
Arrange in a plate and serve with fleur de sel and extra virgin olive oil.
Chocolate Ganache (If you do not want to eat the cake with the olive oil and fleur de sel)
400ml thickened cream
200g dark chocolate, chopped roughly
In a saucepan, put the cream and let simmer. Do not boil the cream as this will burn it.
Remove from heat, add the chocolate but do not mix. Let the chocolate melt for a few minutes.
Using a wooden spoon, stir the melted chocolate together with the cream. Place in the fridge for a few hours to thicken abit.
Assemble
Cut the cooled cake in half.
Put half of the ganache in the centre of the base, spread the ganache around the middle of the cake, and place the other half cake on top.
Put the rest of the ganache and spread evenly on the cake's top and sides.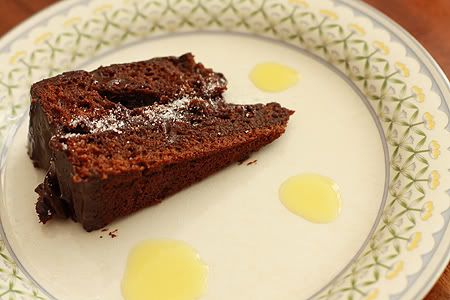 …
And then, while we were there, it just so happened that one of my most favourite culinary couples are also launching their debut product out on the market.
If you love caramel and peanuts, why not put them together? This is the concept that was concocted by someone in the Philippines many centuries ago and will henceforth be known as… peanut brittle. And by some miracle, the planets aligned when Miguel and Geraldine decided it is time for their culinary star to shine by launching their very own peanut brittle product, Nutty Brittle!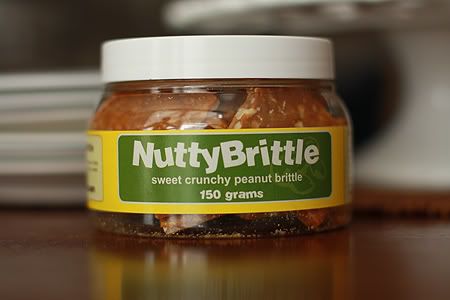 This is how they described Nutty Brittle:
Using the same traditional recipe passed on to us by our family, we take pride in creating homemade peanut brittle that offers the perfect sweet salty crunch you remember from childhood. In each caramel coated bite of our brittle, you will never find any gluten, colouring, or preservatives. And after many years of making this tried and tested treat for our friends, we're happy to finally package it to share with you.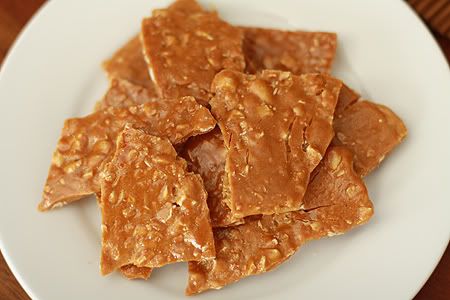 And they were right: this truly brought me back to my childhood when I would happily munch on these sweet salty things until, well, I finish a whole jar (gluttony, I know). You'd have to pry my hands off peanut brittle because they're just highly addictive! Nutty Brittle is no different; what makes it special though is that it is not sickeningly sweet and the caramel's neither too light nor too burnt. In other words, it's just perfect. Perfect by itself, with ice cream, or with… ahem… my cake!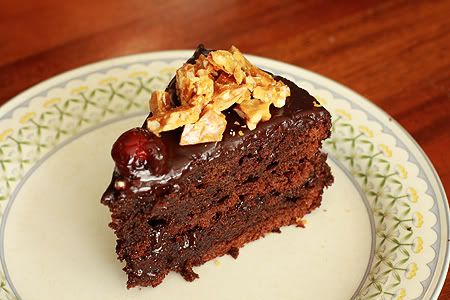 So to make the story short, as I came over with my plate of cake and my trusty old camera, I soon realised that the cake would definitely go well with the salty caramel and nutty peanuts (ha! How redundant, my dear Watson). And the result? Voila!
Nutty Brittle is available in Filipino stores around Sydney. For more information, visit the Nutty Brittle website at http://nuttybrittle.com.