Sounds like a feast, huh?
Well maybe it is.
Maybe it was. Maybe it was a feast fit for a bunch of ladies… that turned out into a bigger than expected impromptu friends' gathering. Maybe it was a whole roast chicken traditionally cooked to tender perfection and paired with the humble brussel sprouts with a bit of a twist by the addition of bacon bits and white wine. Yep. White wine. That's as poshy as I'll ever get, so please do forgive me.
However, this chicken is anything but poshy. In fact, it's so laid back that you can just stuff the chook with flavourings, pop it in the oven, pour yourself a glass of wine, and sit back and relax with your friends for an hour and a half. That's how laid back it is. And the sprouts? You can't go wrong with bacon and some wine. You just can't.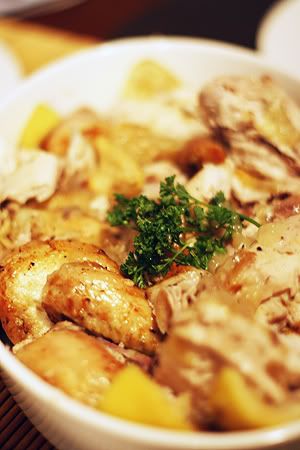 Traditional Lemon Roast Chicken
Recipe adapted from Jules of The Stonesoup from her book And the Love is Free
1 whole chicken, cleaned
1 whole lemon, cut in quarters
3 cloves garlic, crushed but unpeeled
2 onions, cut in quarters but unpeeled
Salt and pepper
Garlic infused olive oil (or just plain olive oil)
1. Pre-heat the oven to 250 deg C.
2. In a big roasting dish, place the chicken in the middle, breast side up, wings tucked in.
3. Stuff the chicken with the lemons. Massage the salt and freshly cracked pepper on to the whole outside skin of the chicken, and evenly coat with the garlic infused oil.
4. Arrange the onions and garlic around the chicken in the roasting dish.
5. Turn down the oven temperature to 220 deg C and cook chicken in oven for 1 hour. Turn the chicken over and cook for a further 30 minutes.
6. Remove from the oven and let the chicken rest for 15 minutes. Remove the lemons, carve the chicken, and spritz the lemon over the chicken. Place the cooked garlic and onions with the chicken to add more flavour.
7. Save the chicken juices that have pooled in the roasting dish. In a sauce pan, pour the chicken juices and add  tablespoon of plain flour. Cook under medium heat while stirring constantly until it thickens. Ladle the chicken gravy on to a bowl and serve with the roast chicken.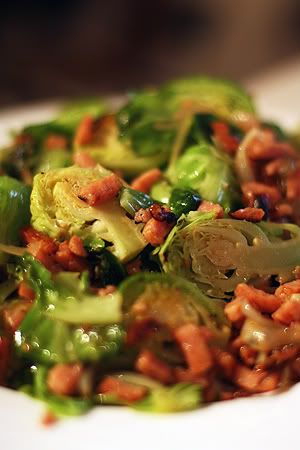 Bacon Brussel Sprouts with White Wine
250g brussel sprouts, washed and bottoms
100g diced bacon
1 tbsp butter
1 onion, chopped
150ml white wine
Olive oil
Salt to taste
1. In a pan, melt the butter with the oil so it does not burn. Saute the onion until it softens.
2. Add the bacon and brussell sprouts, and put on the lid. Cook the sprouts for a few minutes.
3. Add white wine and salt and cook for a further 2 minutes. Serve and enjoy!