During the Christmas break, my older sister was here in Sydney from Canberra to spend the holidays with us. All three of us sisters rarely get to be together at one place at one time, and when we do, we really mean trouble.
Ooohh..
Anyway, since my older sister was in town on holidays and I still had to work, she was in charge of the kitchen and hence our meals. It was so refreshing having to taste other people's cooking, and like they said, other people's cooking always seem to taste better than your own. I don't really know why, but it's true.
So the sister was cooking a few dishes that were new to me, and I slowly learned new dishes that I can now add to my recipe notebook. We both work office hours, go to the gym after work, and get home quite late at night so it was important to know how to cook simple and easy dishes. These two dishes definitely tick all the boxes – simple to make, quick cooking time, and extremely delicious and filling. Who said you needed take away junk food on cheap Tuesdays when you can have this at home?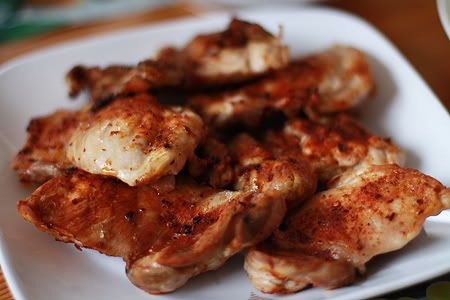 Morrocan Chicken
Makes 4 servings
6 chicken thighs
Piri Piri seasoning
Olive oil, to drizzle
1. Lay out the chicken on a flat baking dish.
2. Sprinkle the Piri Piri seasoning on both sides of the chicken. Drizzle with olive oil.
3. Grill chicken for 10 minutes on each side. Serve warm with couscous.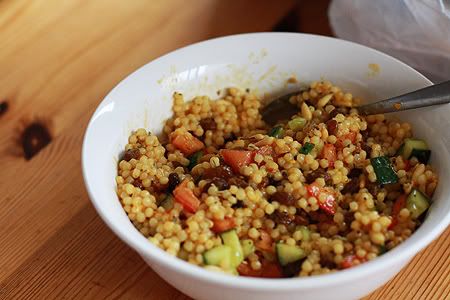 Morrocan Pearl Couscous Salad
Makes 4 servings
1 cup couscous (I used Blu Gourmet Pearl Couscous)
1/2 cup sultanas
2 tbsp Morrocan seasoning
1 Lebanese cucumber, diced
1 tomato, diced
Salt & crushed pepper
Juice of 1 lemon
Pine nuts
1. Prepare couscous according to packet directions (ie 1 cup couscous to 1 1/4 cups boiling water or stock).
2. Add all ingredients together. Leave to cool for a bit, serve warm with chicken.
Now, you might be wondering waddahell am I talking about re the pearl couscous? Why not just use normal couscous? Well, to make the long story short… I've been dying to try out this sample of Pearl Couscous given to me by Elisabeth of Haystac however things got really busy this side of town and before I knew it, it's already 2010. So, apologies to Elisabeth for my slackness and much thanks for sending me this because can I just say… this stuff is amazing!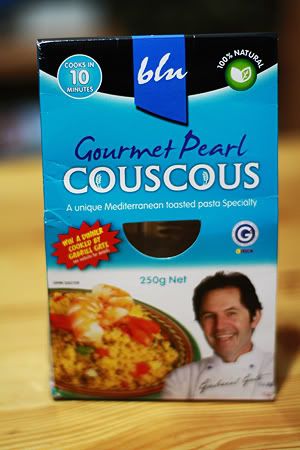 By all means, use normal couscous for this recipehowever the pearl couscous just added a different depth to the dish. The taste is the same, however the texture resembles a cross between rice and tapioca (sago). To keep it short and simple, it was fun to eat it! It was like… couscous caviar.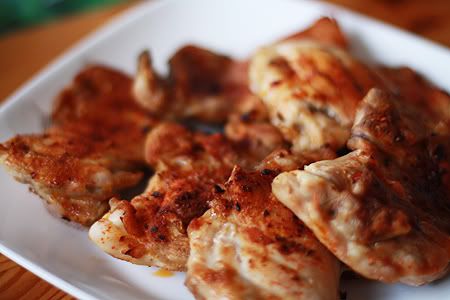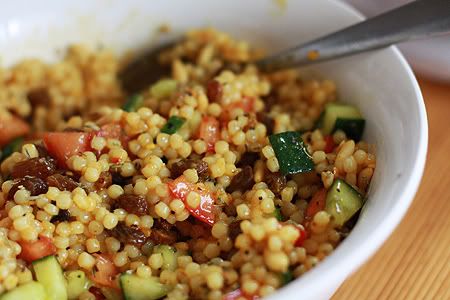 …
Thanks to Elisabeth of Haystac for the Blu Gourmet Pearl Couscous sample.