I have time and time again confessed my usage of short cut ingredients. From using prepackaged vol au vent cases, to ready made green curry sauces, I've made no secret of the fact that I love using readily cooked and prepackaged ingredients from the supermarkets.
The main reason why I use prepacked items is time constraints. Working full time means I leave home at 7am and don't get to see my couch until 8, sometimes 9pm at night. This means long days, short nights, and hence less time spent in the kitchen. One other reason why I use prepcked ingredients is something that I hope you, my dear readers, will forgive me: laziness. Yes. There are times when I am usually a lazy bugger who couldn't be bothered chopping, peeling, mixing, blending, cooking or baking something when I know I can get a short cut version in the shops.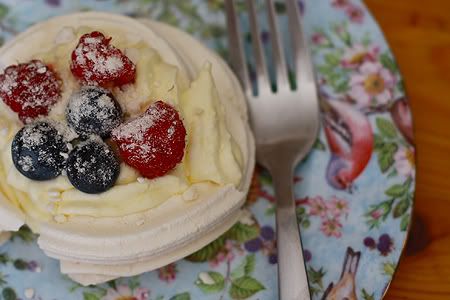 These meringue nests were time lifesavers. I was off to a party, almost out the door, when suddenly I realised I had to bring a dish which I've forgotten about. A quick rummage through the cupboard and the fridge and a trip to the local shops produced three ingredients that saved the day.
Mixed Berry Meringue Nests
Makes approximately 12 servings
12 prepacked ready to eat meringue nests/cases
250g (1 tub) Mascarpone cheese
Mixed berries (I used blueberries & raspberries)
1. Lightly whip the cheese until soft and fluffy.
2. Spoon one tablespoon of mascarpone on top of the meringue nests. Top with mixed berries.
3. Crushed some spare meringue nests and sprinkle on top of the prepared nests.