26 January 2010 marks the day that everyone in the Land Down Undah don their singlets, shorts and thongs and whack on sausos and lamb chops while drinking VB and basking under the glorious Aussie sun. Can we be any more quintessential Aussie than this?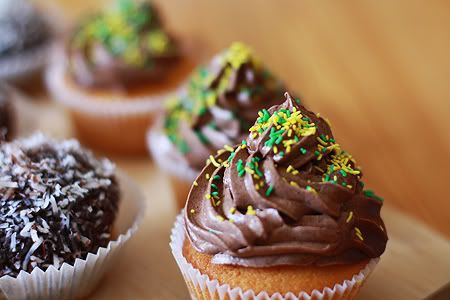 26 January 2010 also marks the day that of my family's 10th year here in Australia… and our 8th year of being Australians. Alot of people back home were wondering why did my dad choose Australia to migrate to, since we neither had family nor friends here (as they were all in the US and Canada). My dad's response to them? Australia is a beautiful country, full stop. He has been to different countries, looking at which place would be the most suitable to us, and he chose Australia because of its friendly people, wonderful sunshine, multiculturalism, and just the sheer promise of opportunity and equality (having said that, I'm sure other countries have the same wonderful features and assets! My dad just wanted a hot country as he couldn't stand winter!). So as a celebration of Australia Day and our 10th year here in the Land of Vegemite and the rotating clothes line and the boomerang, I dusted off the mixer (as it hasn't been used in weeks!) and happily baked some lamingtons for afternoon tea today.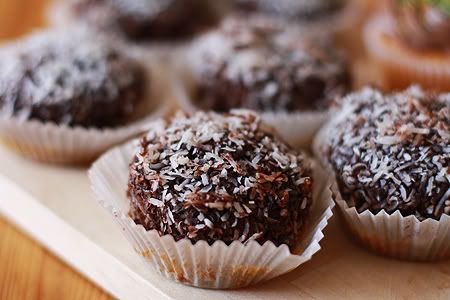 Lamington Cupcakes
Adapted from The AWW Cupcakes book
Makes approximately 8 cupcakes
Cupcakes
90g butter, softened
2 eggs
1 tsp vanilla extract
1/2 cup caster sugar
2 tbsp milk
1 cup self raising flour
1. Preheat the oven to 165 deg C. Line muffin tin with cupcake cases.
2. Beat butter until soft. Add vanilla, eggs and sugar.
3. Add flour and milk and mix well.
4. Pour on to prepared pan and bake for 20 minutes. Cool on wire rack.
Chocolate coating
10 g butter
2 tbsp baking cocoa powder
50g dark chocolate, broken into pieces
1 cup icing sugar
1/4-1/2 cup milk, depending on chocolate consistency
1. In a small saucepan, melt butter and chocolate together. Add cocoa powder and icing sugar and mix until well combined.
2. Add milk while mixing the chocolate until reaching a pouring/coating consistency.
Assembly
Dessicated coconut
Raspberry jam
Whipped cream
1. Remove cupcake from papercase. Dip in melted chocolate and roll on dessicted coconut. Set aside to cool.
2. Slice cupcake in half. Spread jam and whipped cream. Serve & enjoy!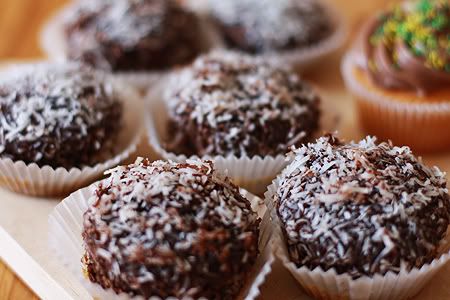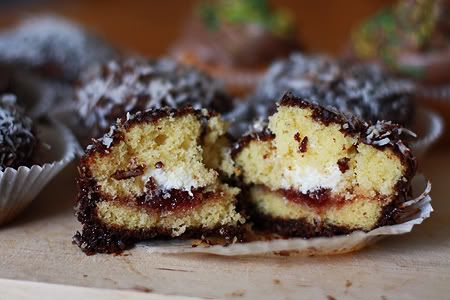 I did find that I had lots of chocolate and dessicated coconut left overs, so what did I do? Mixed the two together, added a few spoonfulls of Crunchy Nut (yes I'm a Crunch Nut nut!), placed in the freezer and voila! Instant snack for the cook…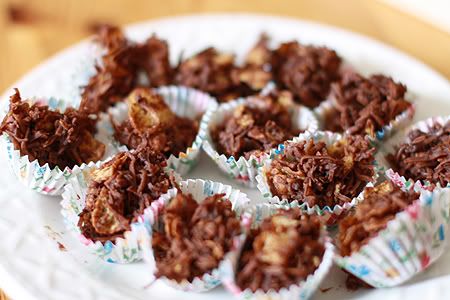 … So… hope everyone's having an incredible time may you be in the beach, having a barbie, watching the tennis, or like me, on call (ie working!) at home.