Hey Trish, this is a "Sugarlace" website, how come you haven't been posting sugar-based recipes, hmmm?
Uhm, yes why haven't I? I do admit that I haven't been posting much sweet stuff lately, and I do apologise for that. I think that I was just in a bit of a baking hiatus: too much sugar in the house = veeery bad for your health (nurse's orders, ok?). But I think it's high time we hit off the second half of December with sweets and more sweets, starting with…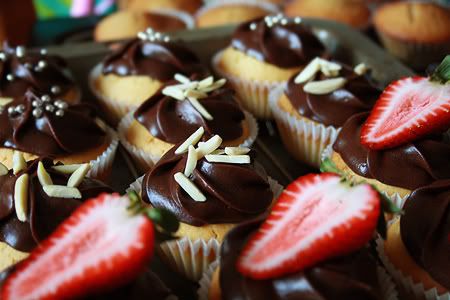 Oohlala! Ya asked for sugar? I give you sugar! MWAHAHAHA *evil laugh*
But in all seriousness, these were serious cupcakes. The base itself was a rich, moist white chocolate mudcake and the frosting was dark chocolate fudge (thanks Hershey's!) reminiscent of ganache. The result was oh so rich and decadent. These cupcakes was an order for a friend's work Christmas party and I couldn't be any happier with the end product.
The recipe for both the base and frosting have already been featured here and here, however I haven't put the two together until now. It was an experiment in finding other alternative to ganache, and this somehow worked beautifully.
White Chocolate Mud Cake Cupcakes
Recipe adapted from Exclusively Food's White Chocolate Mud Cake
Makes approximately 18 cupcakes
300g white chocolate
200g butter
250ml milk
3/4 cup caster sugar
2 tsp vanilla extract
2 eggs
100g self raising flour
150g all purpose flour
Preheat oven to 160 deg C. Line your muffin tray with paper cases.
Place chocolate, butter, milk and sugar in a saucepan. Combine & melt them under low heat while stirring occasionally. Once full melted, remove from heat and set aside to cool.
Once chocolate mixture is cooled, add eggs and stir to combine. Set aside.
Sift both flours in a large bowl. Add 1 cup of wet to the dry ingredients. Stir until combined, and add another cup and stir again. Add all remaining wet ingredients and stir until forming a smooth batter.
Divide batter evenly on to prepared muffin tray. Bake for around 20 minutes. Cool cake before frosting.
Chocolate Fudge Frosting
250g butter, melted
1/2 cup baking cocoa powder
2 tbsp milk
1 cup icing sugar mixture
Melt the butter in a saucepan over low heat. Add the cocoa powder and stir well until reaching a smooth, fudge-y consistency.
Add the milk and sugar alternatively. Mix to combine all ingredients well. Refrigerate if frosting seems too runny.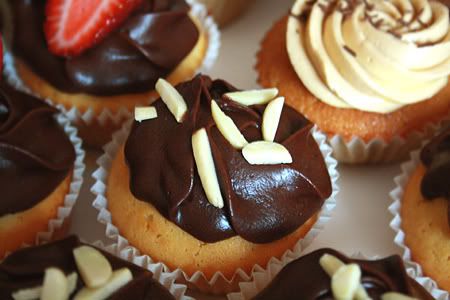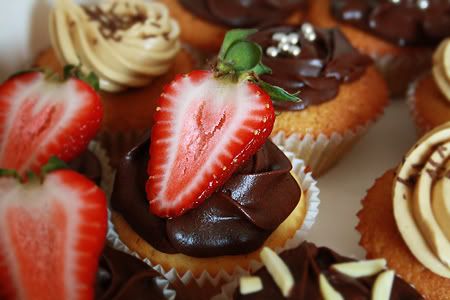 I went abit crazy with the toppings and got quite "creative". I started looking for different sprinkles and toppings that I had in my cupboard, and I ended up with this box of goodies ready to be delivered to my friend's place.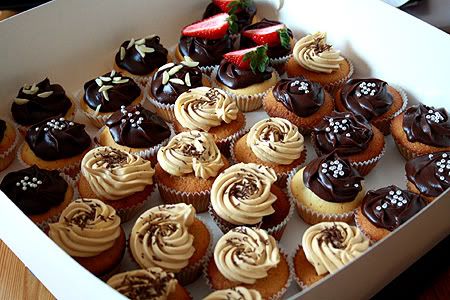 (The coffee cupcakes with coffee buttercream can be found here!)