Picture this: two starving human beings, walking around aimlessly in George Street at 9pm on a Saturday night, while their tummies rumble and grumble angrily.
That was Mr J and me last Saturday night.
We just finished watching 500 Days of Summer (which, surprisingly, was an enjoyable movie!), it was 8:30pm, and we were hungry! Our plans of trying out Mamak after their renovations flew out the window the moment we saw the queue: IT WAS LOOOOOOOOOOOOOOOOOOOOOOONG! Well, we expected a queue anyway but not THAT long. I suppose that's typical Mamak on a Saturday night, whatever the time is!
So, we figured that we should just walk around some more and eventually we'll surely find a restaurant that we'd fancy because we were in the hub of Chinatown and Chinatown equals restaurants.
Correct?
Yes.
Did we fancy them?
No.
So, walked around a bit more, turn left here, around the corner there, and we found ourselves right back to where we started: George St cinemas. We were almost about to give up our little find-a-restaurant-with-decent-food-and-decent-price-on-a-Saturday-night-in-Sydney when we saw a sign that said there's a casual Japanese restaurant just inside the Lumiere building and that we should follow through…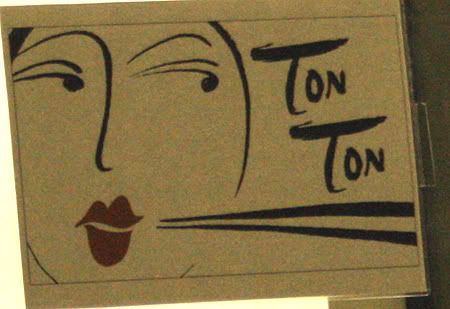 At this point, Mr J and I just didn't care where to go and what to eat: we just wanted food! So, we rounded the corner, saw tables and chairs, walked up the counter, ordered the first thing that we saw, sat down, and waited.
And wait we did for only about 5 minutes (I love Japanese service!).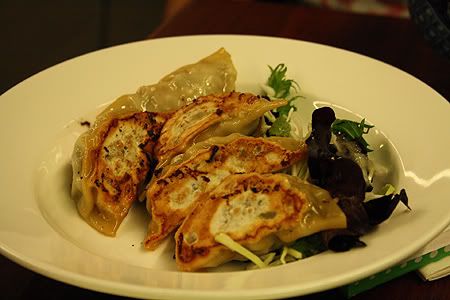 First up was the pork gyoza. This pot sucker sticker was everything a gyoza should be: crispy fried skin, and a moist and almost-juicy vegetable-filled inside. The cabbages were cooked just right – in fact, almost sweet rather than bitter – and you can tell that they were just freshly made and cooked. Mr J was popping the piece by piece in his mouth from hunger and also satisfaction, and I didn't blame him. It was just delicious!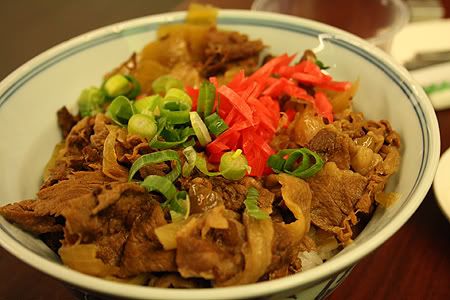 The beef sukiyaki-don is a generous bowl of meat on top and rice in the bottom: the perfect serving of protein and carbs for a big, hungry (growing!) boy. Mr J loves his meat, and this perfectly satiated his hunger. The meat was tender, with just the right saltiness and "curing". The boy quickly polished this off in record time.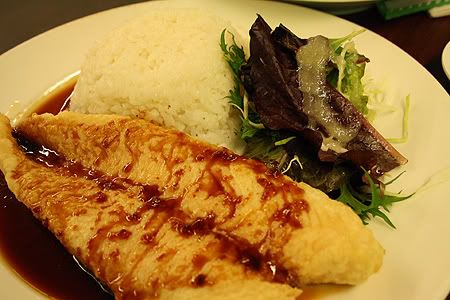 I ordered the Teriyaki Whitefish because it sounded like something I'd like. I was expecting steamed or poached fish with teriyaki sauce, and to be honest I would've been quite happy with that. But what came out of the kitchen and laid infront of me was something quite unexpected: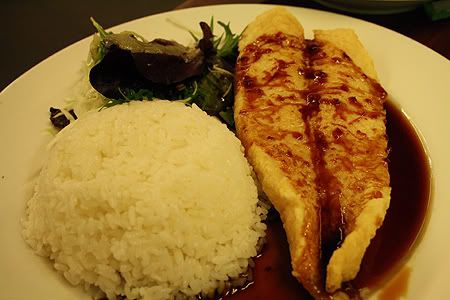 A lightly tempura battered coating, crispy outside and moist and tender white meat inside that amazingly… AMAZINGLY… taste so damn freaking good! The teriyaki sauce is sweet with a slight hint of chilli, and it works so well with the fish that I did not want dinner to end.
What this small pocket of George Street, hidden away from the hustle and bustle of Sydney on a Saturday night, offered to the hungry Mr J and I really amazed us. I never knew this little Japanese dining place even existed, but our stomachs and noses guided us there. I'd like to think that this was a great gastronomical discovery the size of Christopher Columbus, but I know that Ton Ton Regent has been visited and revisited by so many Sydneysiders out there. What I can do, however, is just show you and narrate to you the incredibly dinner that a certain Mr J & Trish had one Saturday night in Sydney.
…
Ground Floor
501 George St
Sydney 2000
Ph: 02 9267 1313