When the going gets tough, some people go shopping. I go eating.
Ok, I should confess that I occasionally do retail therapy shopping too, but in the most dire times when I'm trying to scrimp on money and stay on budget, there's nothing better than cook up something really random that eventually becomes something special.
Last night, I came home and was grateful that the week of hell at work is now over. Oh no, don't get me wrong, I love my new job. Everything about it is still eelectrifying and eelating (please note my references to the Parramatta Eels on the eve of the NRL Grand Final game – yes I'm a proud blue and yellow supporter so bear with me…). But the week has just been tiring both physically and mentally and I needed Friday to come. I needed to get away from it all, relax, and enjoy the long weekend.
So, I got home from a catch up session with some girlfriends and a few trips to people's houses collecting donations for typhoon Ondoy that ravaged the Philippines and left hundreds dead and hundreds of thousands more homeless. I wasn't hungry, but knew I had to eat something adequate enough to last me until breakfast the next day (I get hyperacidity when really hungry and that's not cool at 2am on a Saturday morning).
So, one quick look at my recipe books and I knew I had to try out Jules' cookbook And the Love is Free: Mum – A Life with Recipes. I got this (autographed!) recipe book from Jules' hot hands herself during the Good Food & Wine Show here in Sydney a few moons ago, and I must say I've been quite scared of trying out the recipes. I don't know why… I think I'm just a big fan of Jules and The Stone Soup and trying out the recipes would be like being on MasterChef and creating Adriano Zumbo's chocolate mousse cake – both great feats that I can only dream of!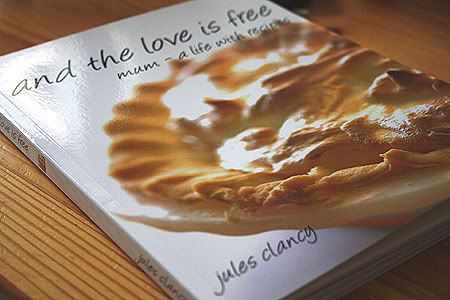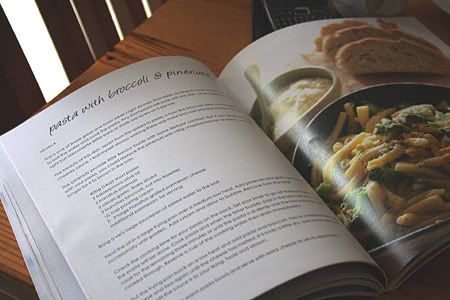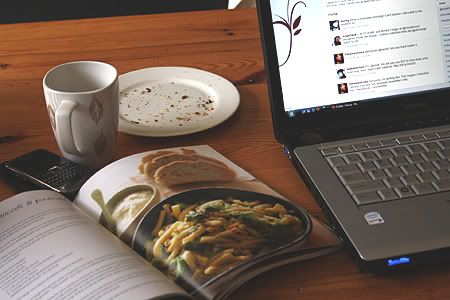 But no sooner did I realise that all that worrying was for nothing – they're good, Aussie homecooked meals with ingredients that are easy to source and easier to cook. Thanks Jules!
This dish also uses cream, but since this was a total fridge raid and I don't usually stock cream unless for instant cooking and baking purposes, I used a can of Carnation Soy Milk instead. The results? FANTASTIC FABULOUSNESS!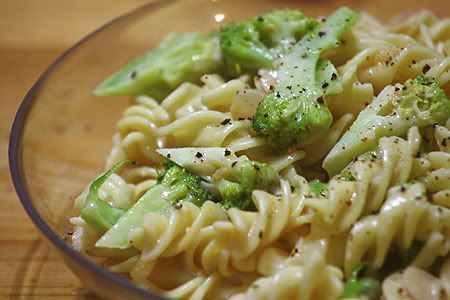 Creamy Pasta with Broccoli, Almonds and Soy Milk
Makes approximately 2 servings
200g pasta spirals, cooked until al dente
3 cloves garlic, minced (2 cloves of garlic for those non-garlic fans)
1 tbsp butter & swirl of olive oil
1/2 cup cream (or 1 can of Carnation soy milk)
1 small head, broccoli
60g sliced almonds
Parmesan cheese
Salt & Pepper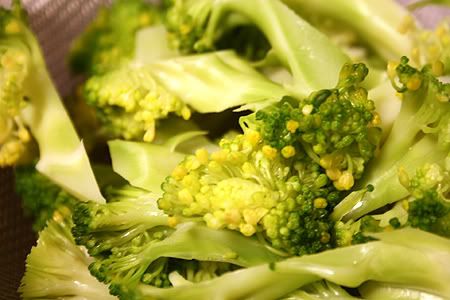 Steam or poach the broccoli in plain boiling water for a few minutes until softened but still crunchy. Drain and set aside.
In a pan, melt butter and oil together.
Lightly brown the garlic in the butter, and add the almonds.
Add the milk, salt and pepper and let simmer for a few seconds.
Remove from heat, and add the cooked pasta and broccoli. Mix with half of the parmesan cheese.
Serve with the remaining parmesan cheese. Enjoy!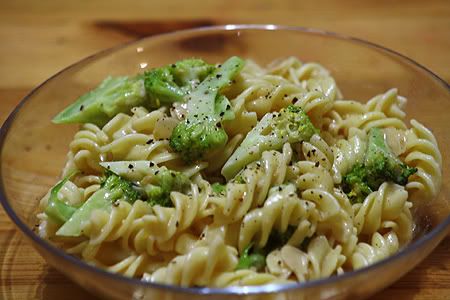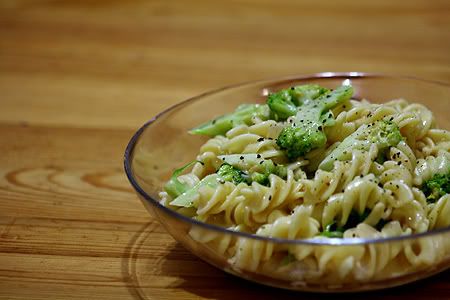 This was the perfect comfort food eating on a Friday night – it's cold and wet outside, and warm and cosy inside the house. I had a stack of DVDs to keep me company, a plate of delicious food, and the promise of a beautiul long weekend ahead.
All work troubles, begone!
…
Thanks to Clare of Mark Communications for the Carnation Soy Creamy Cooking Milk and the recipes! I shall try them all out soon!