While brainstorming for a pudding (read: dessert) to bring to a Father's day lunch, I came to a conclusion that nothing beats the puddings of all puddings, Sticky Date Pudding. You can't go wrong with this magical stuff… everyone loves it (or is bound to love it!).
It also just so happened that I had 350g of dried, deseeded dates in the fridge waiting to be turned into something wonderful, so I just went ahead with this recipe. I knew that Exclusively Food, the hub of my most trusted recipes, featured Sticky Date Pudding not too long ago so it was just a matter of whipping out the pre-printed recipe from my files and ensuring I had all the right ingredients in the fridge.
Dates? Check. Baking ingredients? Check.
Brown sugar, thickened cream, golden syrup? Check.
Now once you read that last bit of ingredients you know what you're in for: BUTTERSCOTCH SAUCE! That wonderful, glorious, gorgeous syrup from heaven that can turn any lacklustre pudding into something magnificent.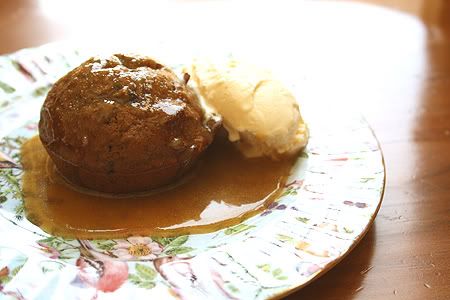 Sticky Date Pudding
Recipe from Exclusively Food
Makes 14 servings
Pudding
1 ½ cups deseeded dried dates, chopped
1 ¼ cups water
1 tsp bicarbonate of soda
60g butter
2 eggs
1 tsp vanilla extract
1 ¼ cups self raising flour
2/3 cup brown sugar
1. Place dates and water in a saucepan over medium heat. Stir and bring to a simmer.
2. Preheat oven to 160 deg C. Grease a 12 hole muffin tray.
3. Add bicarbonate of soda and butter, and remove from heat. Stir and set aside to cool.
4. Once cooled, add eggs and vanilla extract.
5. In a separate bowl, mix flour with brown sugar. Fold in the dates batter with the flour until just combined.
6. Transfer to the muffin tray and bake for 20 minutes.
7. Serve pudding with butterscotch sauce and vanilla ice cream. Enjoy!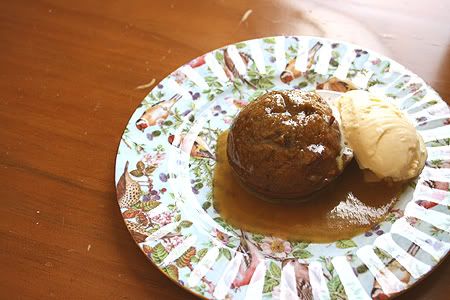 Butterscotch Sauce
1 cup brown sugar
300ml thickened cream
1 tbsp golden syrup
25g butter
1. Put all ingredients in a saucepan over medium heat. Stir and bring to simmer.
2. Reduce heat and simmer again for a further 5 minutes while stirring constantly. Remove from heat and serve warm.
I served this warm at the Mr J's parent's house with all the other guests "Mmmming" and "Ahhhhing" and complaining to me that I just ruined their diets. Well, diet or no diet, I'm just extremely glad that my first ever Sticky Date Pudding turned out extremely, gorgeously fantastic!