Back in the day when I was smaller and younger (ahhh makes me sound so old, eh?), Mum would usually ask us what we want for dinner. And being the typical little kid that I was, I'd usually request for one dish and one dish alone: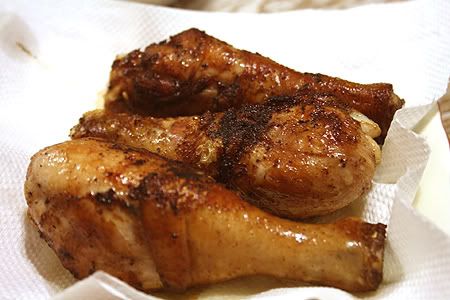 Oh it's a kid's most requested meal, perhaps next to spaghetti you reckon? I know for sure it was mine! Yes we did get the occasional treats on weekends like burgers and chips and pizza, but there's nothing better than a good old homecooked meal made by my mother dearest. I can still remember every Sunday morning, I'd wake up extremely early to go to the markets with Mum and buy fresh seafood, meat, poultry, fruits, and veg. And then we'd go home, clean the fish (yes I know how to clean the innards off  a fish), and help Mum cook the most scrumptious, delicious seafood Sunday lunch.
As I grew older, I suppose I've been lucky to acquire Mum's love for cooking. My sisters aren't as passionate about cooking and baking as I am, and I think it just  boils down to my exposure to food shopping and food preparation at such an early age.
Back to fried chicken. When I was little, the chicken drumsticks (or chicken wings! Mmmm…) were dredged in egg, flour, and breadcrumbs and deep fried to golden perfection. But now that I'm a bit older (and hopefully, wiser), I've opted for less carbs, less frying, and a tastier version. This is, I suppose, a cross between Chinese and Filipino fried chicken with good old American tomato sauce!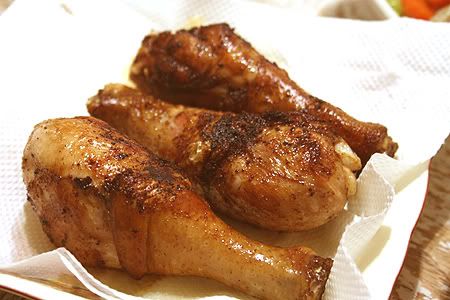 Trisha's Fried Chicken
Makes approximately 3 servings
6 chicken drumsticks (approximately 2 per person)
2 tbsp soy sauce
3 cloves garlic, crushed
Salt & Pepper
Olive oil (for pan frying)
1. Place chicken, soy sauce, garlic, salt & pepper in a bowl. Marinade for about 2-4 hours.
2. Heat oil in a shallow pan. Fry the chicken 15 minutes on each side. Serve with tomato sauce as a dipping sauce.
Really now how easy was that? This is one of those easy and simple recipes that provides instant food gratification!