This is my attempt at copying the beer cafes' infamous sausage platters. All you lovely people know I love my beer cafe, so what better (and cheaper!) way to satisfy my craving than replicate it at home?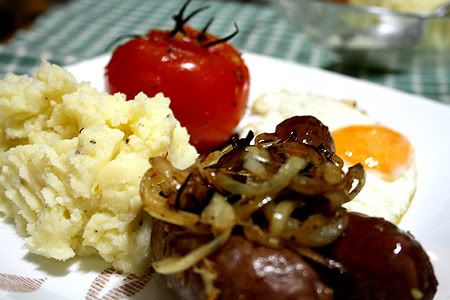 Well what do we have here? There's mashed potatoes (from actual potatoes – mashed, cooked and seasoned by yours truly, thankyouverymuch!), truss tomatoes, sunny side up eggs (heh! The boy requested eggs so who am I to say no?), gourmet sausages and the compulsory onions to finish everything off. No gravy as our preferred sauce is good old tomato sauce. Hey, we're Filipinos and we love our tomato sauce.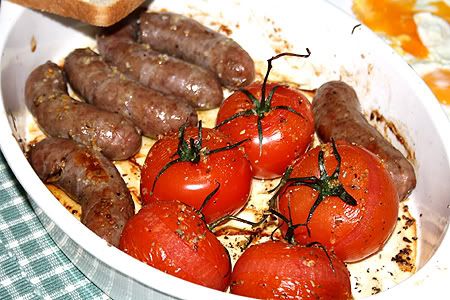 The verdict? ABSOLUTELY DELICIOUS! A perfect winter dinner, best eaten after a gym session with a cold bottle of your favourite beer – mine would be Little Creatures Ale. Oh baby.
I also got the idea from the Good Taste July 2008 magazine I scored with my Good Food & Wine Show goody bag. Hehe – I told you I'm slowly going through my GF&WS goodies!
Bangers & Mash
Makes approximately 3 servings
Sausage Platter
6 gourmet sausages (to serve 2 sausages per person)
3 Truss tomatoes
2 large onions
Garlic oil (or plain olive oil and 3 cloves of garlic)
Preheat oven to 230 deg.
Place sausages in baking dish and bake in the oven for 20 minutes.
After the 20 minutes is up, take the sausages out of the oven and turn over to the other side. Add the truss tomatoes and season them with salt and pepper and drizzle with garlic oil (or olive oil & garlic). Return to the oven and bake for another 20 minutes.
Meanwhile, in a separate pan, cook the onion until brown and soft.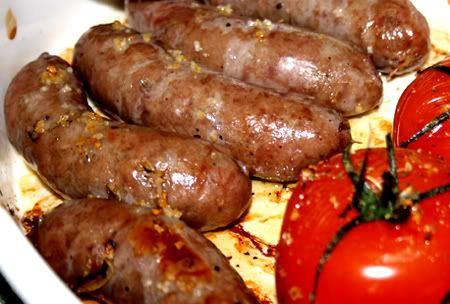 Mashed Potatoes
4 medium sized potatoes, peeled and sliced into quarters
2 tbsp butter
Salt & Pepper
While sausages are baking, place the sliced potatoes in a pan and cover with water. Cook potatoes until soft and ready for mashing (about 20 to 30 minutes).
Drain the potatoes and using the back of a heavy cooking spoon, mash the potatoes against the sides of the pan. Add the butter and mix to combine. Season with salt and pepper.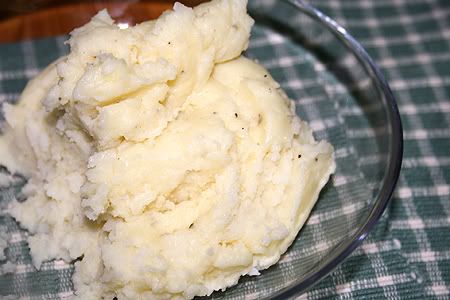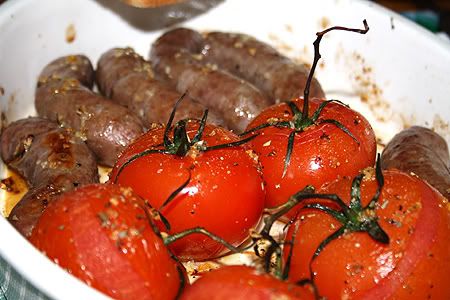 I love the tomatoes and the different textures of the soft mash, the spicy sausages and the sweet onions. And of course, this was eaten with a bottle of beer while watching one of my most favourite tv gangs – Ted, Robin, Marshall, Lily & Barney of How I Met Your Mother. Cheers!