I have been slack with my cooking and baking, so I'm just going to recycle a post that I made on a previous food blog of mine. Much apologies dear readers – I promise to be a bit better with my kitchen adventures after the craziness of this week!
…
When your dad "unknowingly" buys peaches instead of nectarines (he couldn't tell the difference in appearance… until he bit into them and smirked "What are these?! They're not nectarines!), and then having to worry about what to do with 5 ripe peaches on your fruit basket, what do you do?
Why, make peach melba, of course! (I used Nigella Lawson's recipe)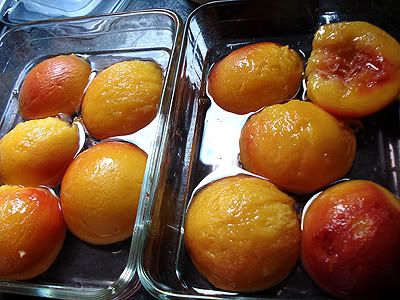 Nigella Lawson's Peach Melba
2 1/2 cups water
5 peaches, halved and de-stoned
2 cups white sugar
1 tsp vanilla essence (or 1/2 tsp vanilla extract)
2 tbsp lemon juice
1. Put water, sugar, lemon juice, and vanilla essence in a shallow pan. Bring to boil until sugar dissolves, then reduce for about 5 minutes.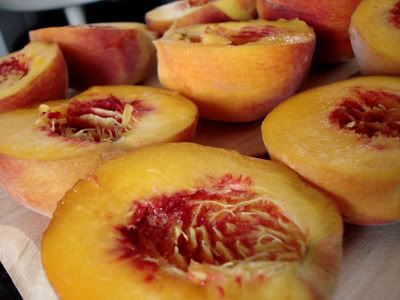 2. Put the peaches in the pan, sliced side down. Turn over after 2-3 minutes (depending on how ripe they are). Check if the peaches are cooked by piercing the exposed flesh with knife. If soft, then take them out of the pan and into a plate to cool.
3. Once cooled, peel the skin off. Serve with vanilla ice cream and raspberry sauce.
And… 15 minutes later, skinned and blushing in its wonderful, sugary vanilla syrup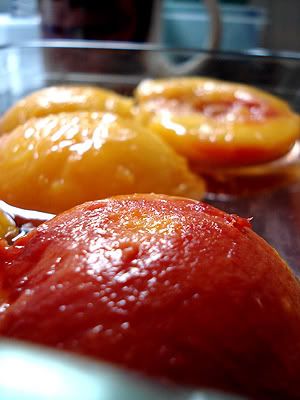 Now all I need is vanilla ice cream and a sweet, tangy raspberry syrup. Mmmm…